Check Point 3D Security Analysis Report Tool

Reduce Security Risks with our new 3D Security Analysis Tool!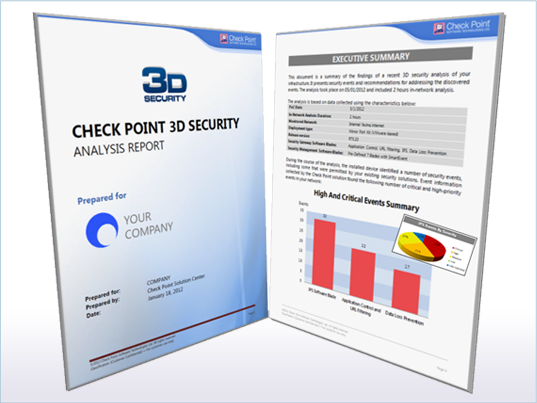 Contact us for a free download!
Key Benefits:
Monitors networks for high and critical security events
Identifies risky applications being used
Detect infected hosts infected with Bots and Viruses
Summarizes security events and necessary actions
Identifies dangerous IPS and DLP events
CIFS worms and directory attacks
Denial of Service vulnerabilities
Credit card numbers and customer names
Offers remediation to reduce risk profiles
Provides easy-to-read visuals about security incidents for quick remediation
Custom reports help accelerate the sales process
Delivers executive summary for discussions with management
How does this work?
3D Security Analysis Report Tool - Should be used on Check Point appliance or open server dedicated for Proof of Concept
3D Security Mirror Port Kit - VMware based virtual gateway software with all security software blades activated
Install on every PC with VMWare Workstation or VMWare player
Connect a laptop or desktop with the kit installed to a mirror port and begin logging traffic and view security events. There is no risk to the customer's environment
3D Security Analysis Report tool is already included in Mirror Port Kit
How do I know which tool to choose?
Choose the 3D Security Analysis Report tool when you need to use a Check Point appliance or an open server, or where high performance capabilities are required
Choose the 3D Security Mirror Port kit when using a laptop or desktop and low performance capabilities are required
Note: Both tools should be used on a dedicated Check Point platform used for Proof of Concept (POC) only.
FAQs:
Question 1: Do we support localization?
Response: Yes.
Please do the following: All default templates are located under "C:\Program Files (x86)\CheckPoint\SmartConsole\R75.20\PROGRAM\data\ClientGeneratedReports"
1. Copy the relevant template and edit to your local language, do not change <query names> inside the template.
2. Link the new localized template to existing report
a. Open the SmartEvent and Click 'Generate Report'
b. Edit existing report and use the newly created localized doc as template instead
Question 2: What to do if the report gets stuck during its generation?
Response: While generating report, all word and excel documents must be closed. If they already closed then open task manager and make sure no WINWORD.EXE or EXCEL.EXE are running, if they are than manually end the process
Question 3: Can we generate offline report by using external log files from customer's database?
Response: Yes, it is possible to import logs into local SmartEvent, Please read more in the User Guide (search for "IMPORTING LOGS TO SmartEvent") located in Sales Tools section of PartnerMAP under 3D Security Analysis Report Tool
Question 4: some of pie text output is cut, if there a way to fix?
Response: Yes, very easily, just double click on the image, click on the text you want to fix, drag it or even delete it till you satisfied with the results
Example: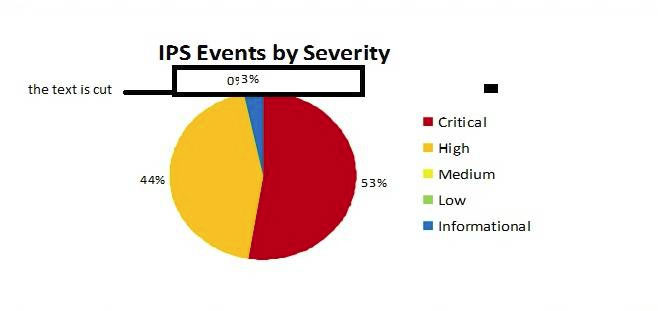 Question 5: When generating a report I receive the following error: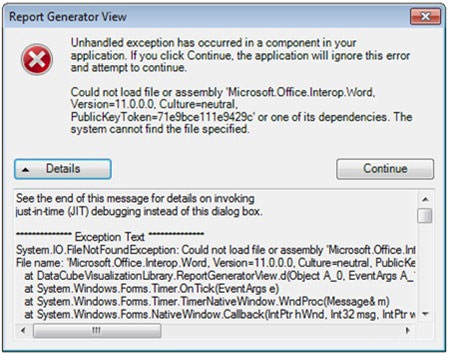 Response: This issue occurs when Microsoft Office package is installed partially (for example only word and excel are installed. To resolve this please install the full Microsoft Office 2003 or 2010 package