Check Point 41000 Appliance

Scalable performance, advanced security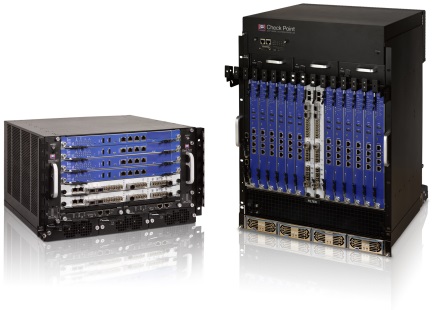 Sorry, this product is no longer available, Please, contact us for a replacement product!
Overview:
Insights
Large data centers have uncompromising needs for performance, uptime and scalability. High end security gateway solutions must perform network access control within the unique requirements of these environments—ultra-high throughput, connection capacity, session and logging rate—while supporting the latest networking standards like IPv6. With the increase in sophisticated attacks, additional security layers such as IPS, Application Control, URL Filtering, Antivirus and others are also required. In addition to their vast performance and security needs, data center environments are characterized by rigid requirements for high reliability of its various systems. All of these requirements drive the need for redundant, serviceable and highly available components and systems.
Solution
The Check Point 41000 and 61000 Security Systems are built for these demanding environments and are based on proven technologies used by Fortune 100 companies and telecommunication vendors all over the world. The Check Point Firewall, IPS, Application Control and Identity Awareness technologies have been awarded the highest 3rd-party certifications possible including NATO Information Product Catalog; US Government penetration testing; Department of Defense Information Systems Agency, ISO-IEC 15408 and more.
The ATCA compliant, carrier grade design offers unsurpassed scalability, availability and serviceability with high performance and high port density. Redundant Security Switch Modules (SSM) provide switching fabric, physical interface, and routing functions. Redundant Chassis Management Modules (CMM) continuously check and monitor the health of the chassis including fans, power supplies and Security Gateway Modules (SGM). For optimal reliability, Check Point ClusterXL Load Sharing distributes the load between Security Gateway Modules in one chassis and ClusterXL High Availability operates between chassis. Check Point SyncXL provides for highly efficient synchronization of system and security information between components in order to ensure high system performance. Deploy two chassis in high availability mode to eliminate down-time.
These two platforms improve security, protect business continuity and reduce operational costs in complex, mission critical security environments such as data centers, Managed Service Providers and telecommunication companies. By adding more SGMs companies get more security and performance. Because SGMs are hot-swappable, customers can add SGMs, boosting performance to new or existing 41000 and 61000 systems even when those systems are in production.
Product Benefits
Scalable platform that grows with your business
High port density with 40GbE and 10GbE fiber ports
Full redundancy (N+N, N+1) eliminates down-time
Designed for ease of management and fast deployment
Product Features
Scalable security solution from 3,200 up to 33,000 SecurityPower units
High raw firewall performance of up to 80 Gbps in the 41000 and 400 Gbps in the 61000
Real-world IPS performance up to 25 Gbps in the 41000 and 70 Gbps in the 61000
High port density with up to 30x10GbE, 4x40GbE in the 41000 and 60x10GbE, 8x40GbE in the 61000
Intra/Dual-Chassis redundancy
Carrier grade ATCA compliant chassis