Check Point 1535 Next Generation Wi-fi Model

Industry's Best Small & Medium Business Firewall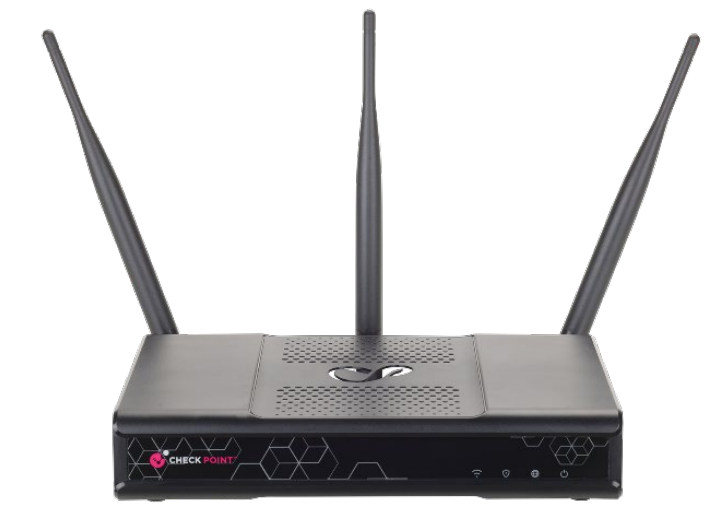 Check Point Products
1535W Pro Base appliance (Hardware including Support Bundles)
1535W Pro Base appliance with Firewall. with 802.11ac WiFi (USA)
#CPAP-SG1535W-FW-US-PROMO
List Price:
$666.00
Our Price: $553.25
1535W Pro Base Appliance with SandBlast subscription package for 1 year. with 802.11ax WiFi 6 (USA)
#CPAP-SG1535W-SNBT-US
List Price:
$1,110.00
Our Price: $922.08
1535W Pro Appliance with SandBlast subscription package and Direct Premium support for 1 year. With WiFi 6. Paid monthly (list price divided by 12).
#CPAP-SG1535W-US-SNBT-SS-PREM-12M
List Price:
$624.00
Our Price: $518.36
Click here to jump to more pricing!

Overview:
Quantum Spark™ – Industry's Best Small & Medium Business Firewall
Introducing Quantum Spark 1500 Pro Next Generation Firewalls for small and medium businesses, featuring the industry's best security used by the world's largest enterprises. Quantum Spark 1500 Pro NGFWs are the industry's first firewalls with integrated AI ML security and cutting-edge Wi-Fi 6 with 5G cellular. SD-WAN provides faster Internet connectivity, application performance, and maximum uptime. Managing Quantum Spark firewalls is easy via an intuitive web interface and a mobile management app.
Quantum Spark gateways provide protection for businesses with up to 1,000 employees and can be easily managed with a user-friendly unified management dashboard.
Advanced security, uncompromising performance
The Check Point Quantum Spark 1500 Pro security gateway family delivers enterprise-grade security in a series of simple and affordable, all-in-one security solutions to protect small business employees, networks, and data from cyber-theft. Models with Wi-Fi, and Wi-Fi with an embedded 5G modem fit seamlessly into your home and branch office networks.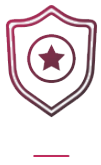 Protection from Every Threat
Best threat prevention up to 2.6 Gbps; always up to date cyberattack protection with a 99.7% catch rate of malware, phishing, ransomware, and more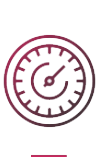 Easy Deployment & Unified Management
Out-of-the-box zero touch provisioning, mobile app for threat mitigation on the go, and a user-friendly unified dashboard for management and reporting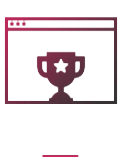 "All-in-One" NGFW Security & Connectivity
Secure more users with optimized internet connectivity; Wi-Fi 6, 5G Cellular, Integrated SD-WAN, performance-based routing, and more
Features:

Comprehensive Protection
Next Generation Firewall
Site-to-Site VPN, Remote Access VPN
Application Control and Web Filtering
Intrusion Prevention
Antivirus and Anti-Bot
Anti-Spam m Email Security
SandBlast Threat Emulation (sandboxing)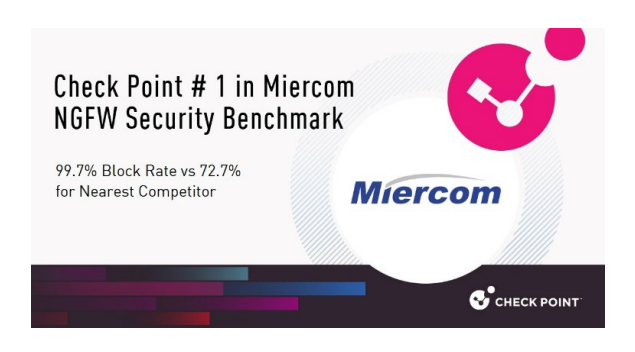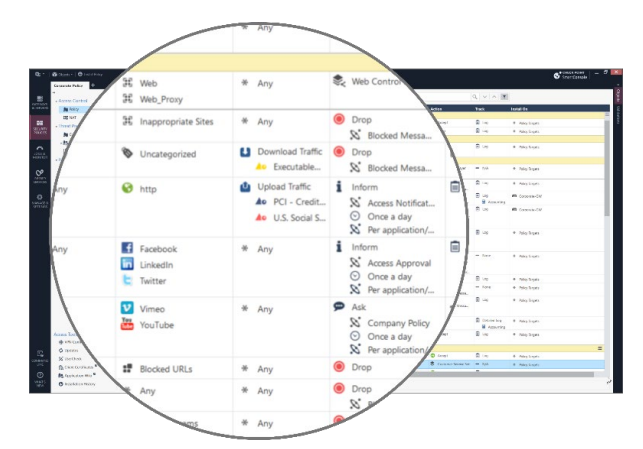 Part of the Quantum Cyber Security Family
R81 software for SMB increases performance and brings enterprise-grade security to small and medium size businesses. Centrally managed SMB gateways support:
Unified access policy: firewall, application control, URLF
Policy layers and sub-policies
Acceleration of Domain, Dynamic and Time objects
Multicore VPN and VPN acceleration
Smart Accel 30% performance improvement of low risk, high bandwidth apps

Wired, Wi-Fi 6, and Wi-Fi 6 with 5G Models
5G is an essential component of any enterprise wireless WAN, either as a primary or failover link connecting fixed remote sites or a mobile fleet of vehicles. The 1595 Pro supports:
Dual SIM single standby (DSSS)
5G antennas: 1x main, 2x MIMO, 1x Auxillary
Global coverage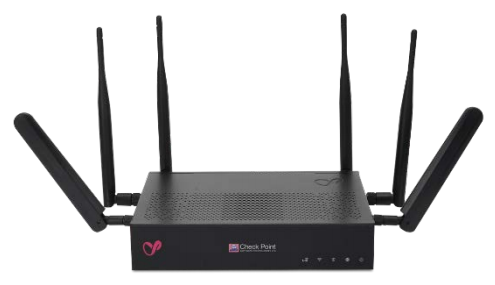 Lower the complexity of managing your security
Check Point Quantum Spark management is designed to increase scalability, improve operational efficiency, and reduce the overall cost for your business. With Zero Touch deployment and pre-defined security policies, your business is secured in minutes. Manage security locally via a Web interface or scale management with a cloud-based Check Point Security Management service. A mobile management app enables real-time access to immediately remediate threats on the go.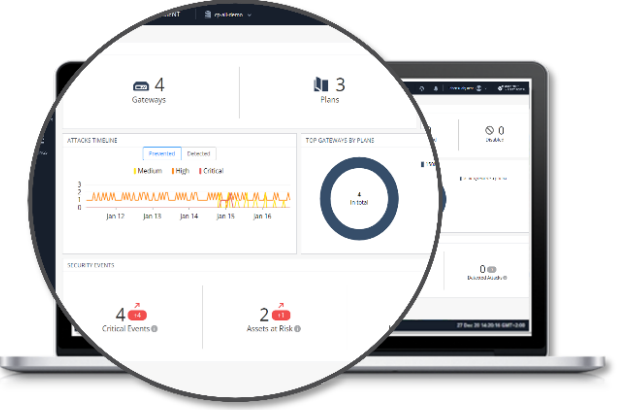 Cloud Management
Quantum Spark cloud management enables service providers to provision security efficiently across all Check Point products and services from the Infinity Portal. Unified logs and dashboards enables Managed Service Providers to manage hundreds of thousands of Quantum Spark firewalls for their small and medium business customers so they can focus on growing their own business.

Simple, Intuitive Monitoring and Reporting
The web interface shows logs, active computers, and hourly, daily, weekly and monthly reports. In network analysis find top applications and users consuming the most bandwidth. Security analysis shows users visiting high-risk sites and using high-risk applications. Also see any incidents or infected hosts found during the reporting period.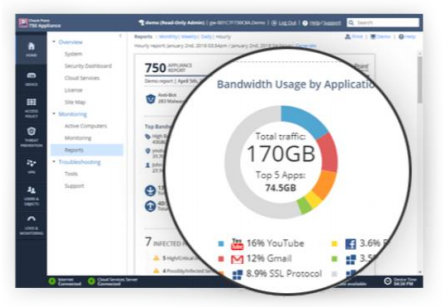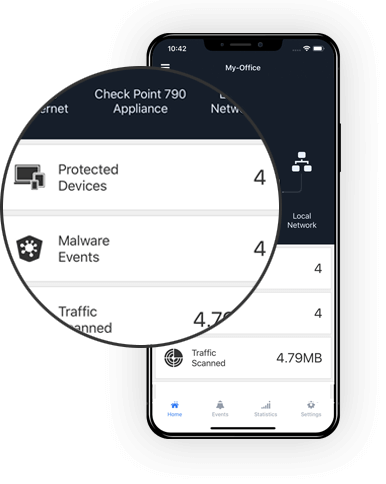 Security Management App
The intuitive mobile app provides real-time monitoring of network events, alerts you when your network is at risk, enables you to quickly block security threats, and configure the security policy for multiple gateways.
Network security snapshot: view connected devices and any threats
Real-time security alerts: highlights attacks and unauthorized devices
On-the-spot threat mitigation: quickly block infected devices
Network statistic reports and charts: gain insights on network usage patterns
Manage multiple gateways: manage security in the palm of your hand
Specifications:
1535, 1555 Pro (Wi-Fi model)
802.11 a/b/g/n/ac/ax Wi-Fi (option)
USB port
5x 1GbE LAN switch
1x 1GbE WAN interface
Power button
USB-C Console port
12V power connector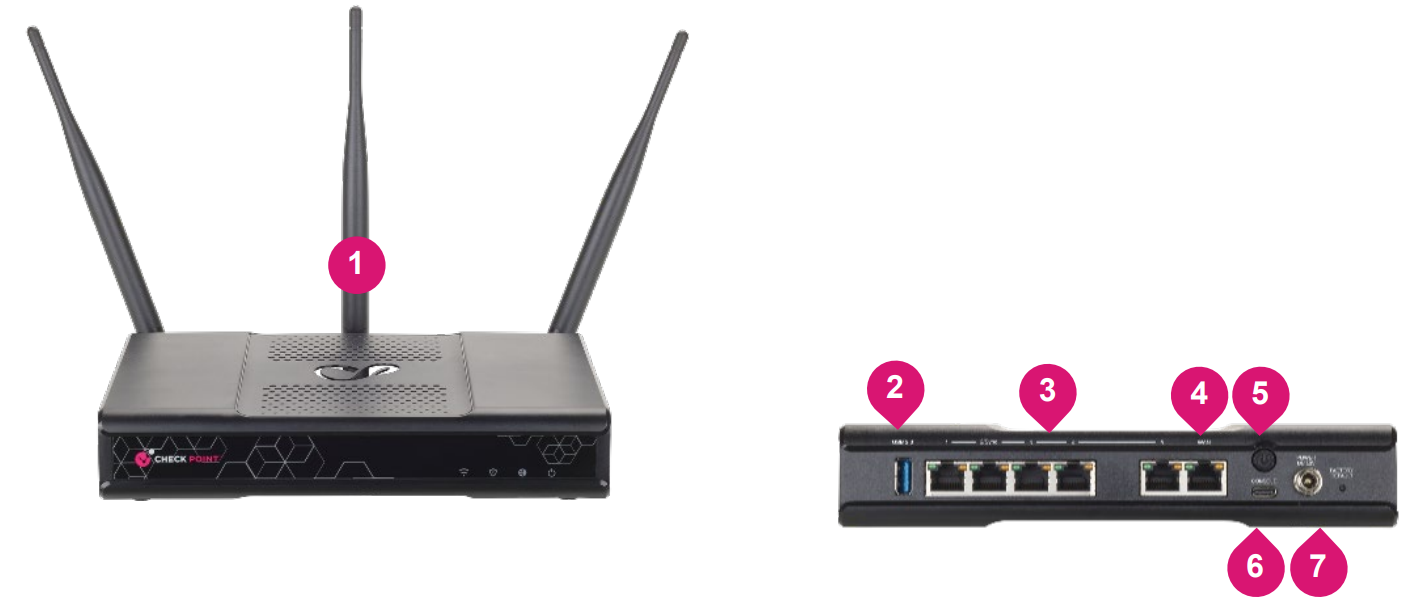 1535
1555
Enterprise Testing Conditions
Threat Prevention with Smart Accel
440
600
Threat Prevention
340
450
Next Generation Firewall
600
800
IPS Throughput (Mbps)
670
900
Firewall Throughput (Mbps)
1,000
1,000
RFC 3511, 2544, 2647, 1242 Performance (LAB)
Firewall 1518 Byte UDP Packets (Mbps)
2,000
2,000
VPN AES-128 Throughput(Mbps)
970
1,300
Connections per Second
10,500
14,000
Concurennt Connections
1,000,000
1,000,000
Software
Security
Firewall, VPN, User Aware, QoS, Application Control, URLF, IPS, Anti-Bot, Antivirus, Anti-Spam, sandboxing
Unicast, Multicast Routing
OSPFv2, BGPv4 and 4++, RIP, PIM (SM, DM, SSM), IGMP, ClusterXL High Availability
IPv6
local network and internet connections, dual stack tunneling IPv4 over IPv6 networks, prefix delegation
Mobile Access License (Users)
100 remote SNX or Mobile VPN client users
Hardware
WAN Port
1x 10/100/1000Base-T RJ-45 port
LAN Port
5x 10/100/1000Base-T RJ-45 ports
Wi-Fi (optional)
802.11 a/b/g/n/ac/ax MU-MIMO 3x3
Radio Band (association rate)
One radio band non-concurrent: 2.4GHz or 5GHz
Console Port
1x USB-C
USB Port
1x USB 3.0
Dimensions
Enclosure
Desktop, wall mount
Dimensions (W x D x H)
210 x 160 x 37.5 mm, 8.3 x 6.3 x 1.5 in.
Weight
0.43 kg (0.95 lbs.)
Environment
Operating / Storage
0ºC ~ 40ºC / -45ºC ~ 60ºC (5~95%, non-condensing)
Power Requirements
AC Input
110 – 240VAC, 50 – 60 Hz
Power Supply Rating
12V/3.3A 40W power adapter
Power Consumption (Max)
17.92 (non-Wi-Fi); 21.95W (Wi-Fi)
Heat Dissipation
61.11(non-Wi-Fi); 74.85(Wi-Fi)
1 Includes Firewall, Application Control, URL Filtering, IPS, Antivirus, Anti-Bot, SandBlast Zero-Day Protection
2 Includes Firewall, Application Control, IPS
Compare:
1535
1555
1575
1595
1600
1800
Gen V security
Smart Accel Performance with
Threat Prevention incuding SandBlast
440 Mbps
600 Mbps
650 Mbps
900 Mbps
2 Gbps
2.6 Gbps
Gen III Security
Next Generation Firewall
600 Mbps
800 Mbps
970 Mbps
1,300 Mbps
3.2 Gbps
5 Gbps
Network Ports
6 x 1GbE Copper
10 x 1GbE Copper
18 x 1GbE Copper
18 x 1GbE Copper
2x2 5GbE Copper
1x 10GbE Copper
Wi-Fi (Optional)
802.11 a/b/g/n/ac/ax MU-MIMO 3x3
802.11 a/b/g/n/ac/ax MU-MIMO 3x3 and
802.11 n/ac wave II MU-MIMO 4x4
-
-
5G Support
-
-
-
Embedded
-
-
Storage
-
64GB SD-Card (optional)
64GB SD-Card (optional)
256GB SSD
Power Supply
Single
Single
Single
Dual
Pricing Notes:
Pricing and product availability subject to change without notice.
Check Point Products
1535W Pro Base appliance (Hardware including Support Bundles)
1535W Pro Base appliance with Firewall. with 802.11ac WiFi (USA)
#CPAP-SG1535W-FW-US-PROMO
List Price:
$666.00
Our Price: $553.25
1535W Pro Base Appliance with SandBlast subscription package for 1 year. with 802.11ax WiFi 6 (USA)
#CPAP-SG1535W-SNBT-US
List Price:
$1,110.00
Our Price: $922.08
1535W Pro Appliance with SandBlast subscription package and Direct Premium support for 1 year. With WiFi 6. Paid monthly (list price divided by 12).
#CPAP-SG1535W-US-SNBT-SS-PREM-12M
List Price:
$624.00
Our Price: $518.36
Next Generation Threat Prevention and Sandblast
Next Generation Threat Prevention and Sandblast for additional 1 year for 1535W Pro Base Appliance
#CPSB-SNBT-1535w-1Y
Our Price: $444.00
Next Generation Threat Prevention and Sandblast for additional 2 years for 1535W Pro Base Appliance
#CPSB-SNBT-1535w-2Y
Our Price: $888.00
Next Generation Threat Prevention and Sandblast for additional 3 years for 1535W Pro Base Appliance
#CPSB-SNBT-1535w-3Y
Our Price: $1,332.00
Next Generation Threat Prevention
Next Generation Threat Prevention for additional 1 year for 1535W Pro Base Appliance
#CPSB-NGTP-1535W-1Y
Our Price: $333.00
Next Generation Threat Prevention for additional 2 years for 1535W Pro Base Appliance
#CPSB-NGTP-1535W-2Y
Our Price: $666.00
Next Generation Threat Prevention for additional 3 years for 1535W Pro Base Appliance
#CPSB-NGTP-1535W-3Y
Our Price: $999.00
Next Generation Firewall Package
Next Generation Firewall Package for additional 1 year for 1535W Pro Base Appliance
#CPSB-NGFW-1535W-1Y
Our Price: $222.00
Next Generation Firewall Package for additional 2 years for 1535W Pro Base Appliance
#CPSB-NGFW-1535W-2Y
Our Price: $444.00
Next Generation Firewall Package for additional 3 years for 1535W Pro Base Appliance
#CPSB-NGFW-1535W-3Y
Our Price: $666.00
Direct Premium support
1535W Pro appliance (USA) with 802.11ax WiFi 6. with SNBT package and Direct Premium support for 1Y
#CPAP-SG1535W-US-SNBT-SS-PREM-1Y
List Price:
$1,299.00
Our Price: $1,079.08
1535W Pro appliance (USA) with 802.11ax WiFi 6. with SNBT package and Direct Premium support for 3Y
#CPAP-SG1535W-US-SNBT-SS-PREM-3Y
List Price:
$2,565.00
Our Price: $2,130.75
1535W Pro appliance (USA) with 802.11ax WiFi 6. with SNBT package and Direct Premium support for 5Y
#CPAP-SG1535W-US-SNBT-SS-PREM-5Y
List Price:
$3,831.00
Our Price: $3,182.41
Direct Premium Pro support
1535W Pro appliance (USA) with 802.11ax WiFi 6. with SNBT package and Direct Premium Pro support for 1Y
#CPAP-SG1535W-US-SNBT-SS-PREMPRO-1Y
List Price:
$1,338.00
Our Price: $1,111.48
1535W Pro appliance (USA) with 802.11ax WiFi 6. with SNBT package and Direct Premium Pro support for 3Y
#CPAP-SG1535W-US-SNBT-SS-PREMPRO-3Y
List Price:
$2,682.00
Our Price: $2,227.94
1535W Pro appliance (USA) with 802.11ax WiFi 6. with SNBT package and Direct Premium Pro support for 5Y
#CPAP-SG1535W-US-SNBT-SS-PREMPRO-5Y
List Price:
$4,026.00
Our Price: $3,344.40