Check Point 16000 Security Gateway

Large enterprise security, performance and reliability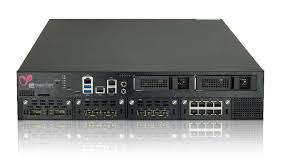 Sorry, this product is no longer available, please contact us for a replacement.
Overview:
Ready to battle any threat, from small to the fifth generation large scale and multi-vector attacks, our security gateways provide superior threat prevention and a unified security management. Turbo charge your enterprise with Check Point 16000 Next Generation Firewalls that combine the most comprehensive protections with data center-grade security and hardware to maximize uptime and performance for securing large enterprise and data center environments.

Highest Security Effectiveness
Integrated with R80.30 and ThreatCloud setting a new standard of prevention against advanced 5th generation cyber attacks

State-of-the-Art SSL Inspection
Threat Prevention that delivers lightning fast SSL-encrypted traffic inspection without compromising up time or scalability

1 Tbps of Gen V Performance
Hyperscale ready, high performance threat prevention hardware for the fastest Gen V security gateway in the industry
Performance Highlights
Gen II Security:
Firewall
Gen III Security:
NGFW1
Gen V Security:
Threat Prevention + SandBlast2
78.3 Gbps
27 Gbps
16.4 Gbps
Performance measured on the 16000 Turbo model with enterprise test conditions. 1. Includes Firewall, Application Control, and IPS. 2. Includes Firewall, Application Control, URL Filtering, IPS, Antivirus, Anti-Bot and SandBlast Zero-Day Protection.
Data center grade security, performance and reliability
The Check Point 16000 Next Generation Security Gateway combines the most comprehensive security protections with data center grade hardware to maximize uptime while safeguarding enterprise and data center networks.
The 16000 Turbo model is a 2U Next Generation Security Gateway with four I/O expansion slots for high port capacity, redundant AC power supplies and fans, a 2x 480GB SSD RAID1 disk array, and Lights-Out Management (LOM) for remote management. If you're ready for 25, 40 or 100 GbE, so is the 16000 Next Generation Security Gateway - with its 40 and 100/25 GbE IO card options.