Check Point Quantum Smart-1 Cloud

Security Management Architecture delivered from the Cloud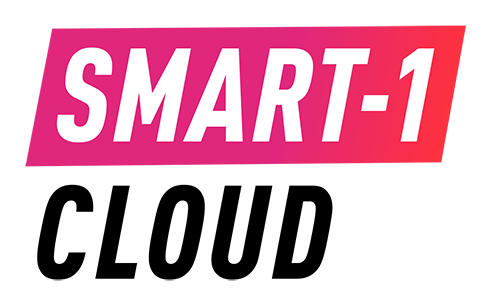 Check Point Quantum Smart-1 Cloud
Contact us for Pricing!

Get a Quote
Check Point offers, for the first time, an all-inclusive security management architecture delivered from the Cloud designed to manage security across on-premise Firewalls, Networks, Cloud, Mobile and IoT.
Overview
Check Point Security Management sets the standard for reliability and ease-of-use in security management. From policies and operations to people and technology, consolidate all aspects of your security environment seamlessly so you can deploy the strongest protections across your organization effectively and efficiently – without impeding business innovation.
Quantum Smart-1 Cloud answers the evolving needs of enterprise security management today. By keeping up with the latest security, you are able to manage the latest threats across devices and workloads via a single management console now in the cloud. It has the ability to scale and manage the increasing number of gateways as our environments grow without having to worry about limited physical storage space or log storage capacity. Most importantly, you can effectively manage maintenance and save incredible time on onboarding new gateways, monitoring devices, facility power and any new updates or hotfixes – instead this is all done for you, automatically, thanks to Quantum Smart-1 Cloud.
Benefits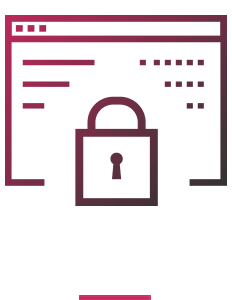 Always the Latest Security Management
Newest features automatically updated in a unified management platform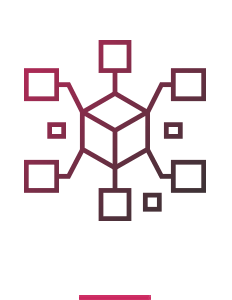 On-Demand Expansion
Seamlessly expand capacity supporting additional gateways and storage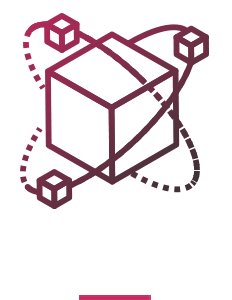 Zero Maintenance
Security Management as a Service has no installation, no upgrades
Solution
Smart-1 Cloud Shared Responsibility Model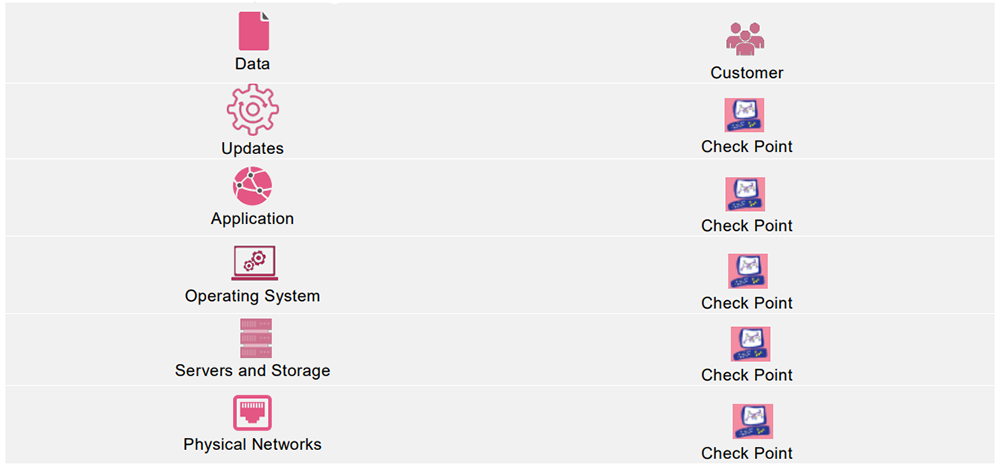 Lower your Startup Time, Costs, Maintenance….
Smart-1 Cloud answers the evolving needs of enterprise security management today. Businesses are up to date with the latest security and are able to manage the latest threats across devices and workloads via a single management console. Security management delivered from the cloud scales as environments grow without having to worry about limited physical storage space or log storage capacity. With Smart-1 Cloud organizations save time on startup, infrastructure and maintenance costs.
In minutes, have the latest Security Management release with the full functionality running as a service and have all your gateways connected. Connecting a gateway is easy. Create an HTTPS tunnel from the gateway to the service using a unique authentication key. Once the gateway object is created, all that is left is to initiate the Secure Internal Communication (SIC). Then focus on managing your organizations security and analyzing the logs and events.
Always the Latest Security Management
Security is a process. As threats evolve so do the security processes and technologies designed to address these threats. This includes security and threat management. New releases include new capabilities and new tools like threat analytics for improved threat visibility. With cloud delivered security management, organizations don't have to worry about finding a change window to update the security management server to the latest, new software release.
On-demand Expansion
Like other Software-as-a-Service models, Smart-1 Cloud is available for a yearly subscription. Start with management for 5 gateways with 200 GB of log storage to store up to 5 GB of logs per day. As your business grows and you add additional gateways, you get 50 GB of additional log storage to store up to 1 GB of logs per day. Easily expand on-demand, adding more gateways and storage as you see fit.
Zero Maintenance
Check Point maintains the infrastructure and software. Until now, you had to plot your windows of maintenance, run testing, and then roll out an upgrade campaign to all selected candidates to get them up to date. Today, with Smart-1 Cloud, this is automatically updated for you. In addition we do daily backups and monitor systems and disk space for any issues.
Quantum Smart-1 Cloud
Features:
Next Generation Policy Management
Check Point's next generation policy makes it extremely easy to segment policy into manageable sections with inline shared policies. Create rules in sub-policies aligned to specific business function like control of safe Internet use. Then delegate authority of the policy and share it across teams, ensuring consistency and freeing key security personnel to handle other tasks.
Delegation and Collaboration
Work without conflict. Session-based object locking enables multiple administrators and the same administrator to work simultaneously on the same rule base. Granular administrator delegation enables access based on role such as SOC analyst, auditor and security administrator.
One Console to Manage Them All
With one console, security teams can manage all aspects of security from policy to threat prevention – across the entire organization – on both physical and virtual environments. Consolidated management means increased operational efficiency.
Unified Policy
In addition to a unified console, a unified access control policy for users, applications, data and networks simplifies policy management.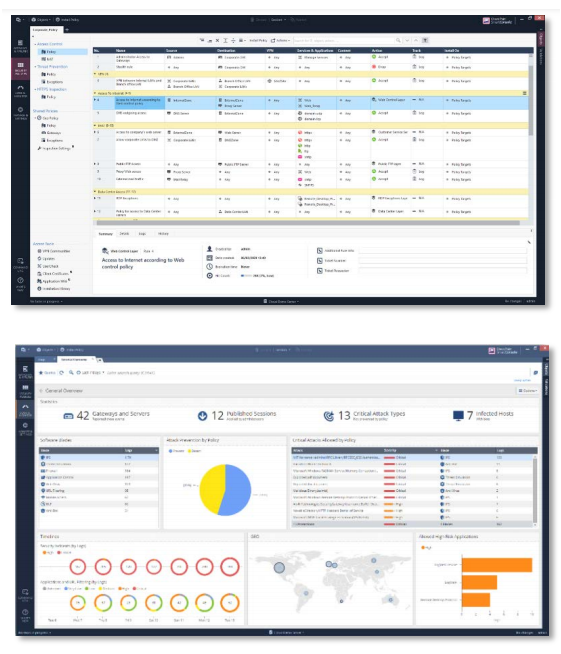 Compliance Reports
Security can be complex, but there are industry and security best practices to guide you. Real-time compliance monitoring and reporting is built-in, showing admins how their policy compares with Security Best Practices and regulations such as GDPR, HIPAA and PCI DSS.
APIs Enable Operational Efficiency
With too much work and too little staff, security teams need to work smarter. Automation and granular delegation are key to helping alleviate operational overhead. With RESTful APIs, security teams can automate any task.
Zero-touch Deployment
An intuitive web-based user interface, enables large enterprises to provision security efficiently. Apply a template describing device configuration settings to your inventory of new security gateways. When powered on Check Point gateways get their configuration from the cloud and are ready for a security policy.
Threat Management
Threat Management is fully integrated, with logging, monitoring, event correlation and reporting in one place. Visual dashboards provide full visibility into security across the network, helping you monitor the status of your enforcement points and stay alert to potential threats.
---
Documentation
Download the Check Point Quantum Smart-1 Cloud Datasheet (PDF).