Check Point 1120 Wireless Appliance

Big security for small branches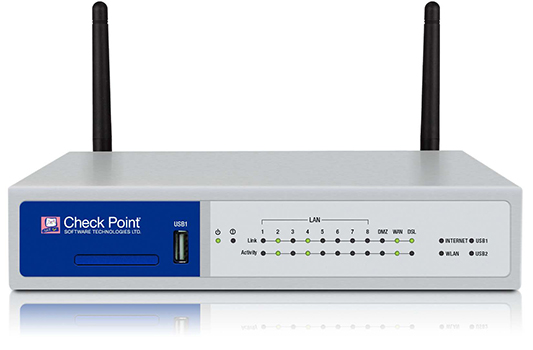 Sorry, this product is no longer available, Please, contact us for a replacement product!
Click here to jump to more pricing!
Overview:
The Check Point 1120 Wireless Appliance is an all-inclusive, centrally managed, security appliance for branch offices and remote sites. Built on the Software Blades Architecture, the 1120 Appliance offers the same enterprise-class Check Point security that is used by all of the Fortune 100; on a compact desktop form factor.
Key Features
Software blades architecture on a small form-factor
10x1GbE ports, wireless, ADSL and 3G support
Local and Central management options
Performance
SecurityPower: 28
Firewall Throughput: 750 Mbps
IPS Throughput: 720 Mbps (Default)/ 100 Mbps (Recommended)
Your Challenge
In the age of global business and increasingly more distributed workforce, remote and branch staff demand access to corporate resources in order to work effectively and efficiently. However, even a small data breach can expose growing companies to crippling lawsuits, penalties and loss of reputation. As hacking techniques and malware evolve, the threat of data loss compels companies to further restrict access to sensitive data. With limited IT budgets and resources, branch offices need an inexpensive, yet effective solution to provide secure access to critical resources from anywhere, while minimizing the risk of a data breach.
Our Solution
The Check Point 1100 Appliances are a simple, affordable and easy to deploy all-in-one solutions for delivering industry leading security to protect the weakest link in your enterprise network—the remote branch offices. Protect against cyber threats with Check Point Threat Prevention Software Blades. The Check Point 1100 Appliance is an all-in-one, centrally managed, security appliance for branch offices and remote sites. Built on the Software Blades Architecture, the 1100 Appliance offers the same enterprise-class security used by all Fortune 100 companies—in a compact desktop form factor.
The 1100 Appliances, available in 3 models to match the number of users protected, are ideal for small offices with from one to fifty employees. A wide variety of network interface options are available including 1GbE Ethernet ports, 802.11b/g/n WiFi, ADSL and 3G wireless connections. These compact desktop appliances deliver outstanding performance of 1.5 Gbps firewall and 220 Mbps of VPN throughput. For local management and support in a small office environment, an easy and intuitive web-based local management interface is available. Enterprises who want to manage security from a central office can leverage Check Point Security Management or Multi-Domain Security Management to remotely manage and apply a consistent security policy to hundreds of devices across the field offices.
Features
Software Blade architecture in a small form-factor
New hardware optimized to address branch office network needs
Flexible management options
Benefits
Multi-layered protection against today's sophisticated cyber-threats
Multiple network interfaces with optional wireless connectivity and ADSL connectivity to support any network deployment
Multiple management options to address any organization's needs
- Simplified web-based Local Management
- Centralized with Check Point Security Management
Pricing Notes:
Pricing and product availability subject to change without notice.
Appliances license cannot be used on any other system other than the dedicated appliance.
When building a cluster configuration, all cluster members must be of the same appliance.
All 1120 appliances include Firewall, VPN, Advanced Network & Clustering blades, Identity Awareness and Mobile Access (for 5 users) blades.
Pre-packaged blades are not accumulative and cannot be extracted from the appliance.
The software license for the 1100 appliance is generated based on the system s unique MAC address (not the IP address assigned to the system).
License includes support for central or local management.
Hardware warranty is for 1 year.
Recommended for up to 10 users with all Next Generation Threat Prevention blades enabled.
On site RMA services are not available on all 1100 appliance.
FCCA wireless devices refer to radio frequencies used in North America.
Check Point Products
Accessories & Add Ons
Replacement Power Supply 2A for 600/1100 (Wired Only) - US
#CPAC-PSU-2A-600/1000-US
List Price:
$60.50
Our Price: $50.26
Replacement Power Supply 2.5A for 600/1100 (Wireless & ADSL) - US
#CPAC-PSU-2.5A-600/1000-US
List Price:
$60.50
Our Price: $50.26
Additional Software Blades
Check Point Mobile Access blade for up to 50 concurrent connections
#CPSB-MOB-50
List Price:
$1,730.00
Our Price: $1,437.11