Check Point 1200R Rugged Appliance

Security for harsh environments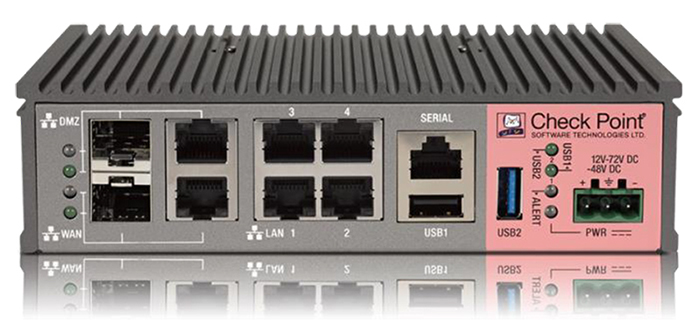 Sorry, this product is no longer available, please contact us for a replacement.
Overview:
Insights
Cyberattacks on critical infrastructures & industrial environments are no longer a myth. Power generation facilities, metropolitan traffic control systems, water treatment systems, and factories are all at risk. Exploits freely available on the Internet make the Industrial Control Systems (ICS) of leading vendors easy targets for attackers.
These ICS environments can be harsh — exposing networking equipment to extreme temperatures, humidity, dust, and vibration. They require a rugged and reliable security gateway solution to detect threats and control access to critical components.
Solution
The Check Point 1200R is a rugged appliance delivering Next Generation Threat Prevention for Critical Infrastructure and Industrial Control Systems. This solid-state appliance secures SCADA (supervisory control and data acquisition) protocols and OT (operational technology) equipment. The 1200R includes Firewall, IPS, Application Control, Antivirus, and Anti-Bot protection. This rugged appliance operates in harsh environmental conditions and complies with industrial specifications IEEE 1613, IEC 61850-3 for heat, vibration, and immunity to electromagnetic interference (EMI). Robust performance and powerful central management provide unmatched value in a simple, all-in-one solution.
Next Generation Firewall
Check Point Application Control offers broad support for specialized SCADA and ICS protocols for over 500 different commands. Additional protocol support is available on request.
Protocol Support1

BACNet
DNP3
IEC-60870-5-104
IEC 60870-6 (ICCP)

OPC
Profinet
S7 (Siemens)
1 For the latest protocols, see the AppWiki
Product Benefits
Deploy SCADA security in harsh environments and remote locations
Operates in extreme temperatures from -40°C to 75°C
Complies with industrial specifications for heat, vibration and immunity to electromagnetic interference (EMI)
Enables full visibility and granular control of SCADA traffic
Product Features
Enterprise-grade access control and threat prevention
Comprehensive SCADA protocols support
Specialized hardware for industrial environments
Standard rack or DIN rail mounts
High MTBF of 300,000 hours
AC or DC power