Check Point 1450 Wireless Security Appliance

Branch and small office security with a Wi-Fi option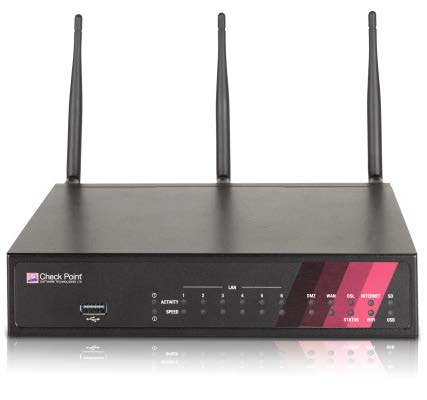 Sorry, this product is no longer available, please contact us for a replacement.
Overview:
The Branch Office Challenge
In the age of global business and a more distributed workforce, remote and branch staff demand access to corporate resources in order to work effectively and efficiently. However, even a small data breach can expose companies to crippling lawsuits, penalties and loss of reputation. Branch offices need an inexpensive, yet effective solution to provide secure access to critical resources from anywhere, while minimizing the risk of a data breach.
Our Solution
The Check Point 1400 Appliance family is a simple, affordable and easy to deploy all-in-one solution for delivering industry leading security to protect the weakest link in your enterprise network—the remote branch offices. Protect against cyber threats with Check Point Threat Prevention all in a quiet, compact desktop form factor.
Access Control
Threat Prevention
VPN
Firewall
Application Control
URL Filtering
User Awareness
IPS
Antivirus
Anti-Bot
Anti-Spam
Remote Access
Site-to-Site
Setup is done in minutes using our step-by-step configuration wizard. The 1400 Appliances are manageable centrally by means of the Check Point enterprise Security Management or Multi-Domain products.
Available in two appliances, the 1430/1450 and the 1470/1490, these appliances come standard with eight (8) 1-Gigabit or sixteen (16) Ethernet ports respectively. Connect securely from any device direct or through secure authenticated Wi-Fi. The Wi-Fi can even be partitioned separating guest from employee access. Network settings allow for URL and application filtering by employee function, and secure communications between offices is accommodated with VPN. Remote access encrypts data traffic whether you are on the road or in the office. The 1400 Appliances offer monitoring of network traffic by user and easily generate activity reports and logs.
Product Benefits
All-in-one protection against viruses, spam, bots, dangerous applications and malicious websites
Continuous security updates from ThreatCloud TM
Fast set-up, instant protection
Secure remote access for your mobile worker
Easy to understand usage reports
Multiple management options to address any organization's needs -
Simplified web-based Local Management -
Centralized with our enterprise Security Management or Multi-Domain Management products
Product Features
Highest ranked Next Generation Firewall
Profile-based management designed for large-scale deployments
Multiple internet access options including support of external 3G/4G/LTE modem
Integrated 802.11ac wireless security with guest access
Pricing Notes:
Pricing and product availability subject to change without notice.