Check Point 61000 Appliance

Scalable performance, advanced security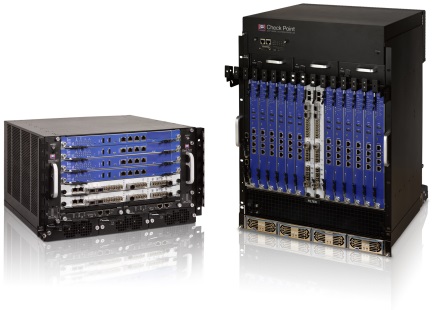 Sorry, this product is no longer available, Please, contact us for a replacement product!
Overview:
Insights
Large data centers have uncompromising needs for performance, uptime and scalability. High end security gateway solutions must perform network access control within the unique requirements of these environments—ultra-high throughput, connection capacity, session and logging rate—while supporting the latest networking standards like IPv6. With the increase in sophisticated attacks, additional security layers such as IPS, Application Control, URL Filtering, Antivirus and others are also required. In addition to their vast performance and security needs, data center environments are characterized by rigid requirements for high reliability of its various systems. All of these requirements drive the need for redundant, serviceable and highly available components and systems.
Solution
The Check Point 41000 and 61000 Security Systems are built for these demanding environments and are based on proven technologies used by Fortune 100 companies and telecommunication vendors all over the world. The Check Point Firewall, IPS, Application Control and Identity Awareness technologies have been awarded the highest 3rd-party certifications possible including NATO Information Product Catalog; US Government penetration testing; Department of Defense Information Systems Agency, ISO-IEC 15408 and more.
The ATCA compliant, carrier grade design offers unsurpassed scalability, availability and serviceability with high performance and high port density. Redundant Security Switch Modules (SSM) provide switching fabric, physical interface, and routing functions. Redundant Chassis Management Modules (CMM) continuously check and monitor the health of the chassis including fans, power supplies and Security Gateway Modules (SGM). For optimal reliability, Check Point ClusterXL Load Sharing distributes the load between Security Gateway Modules in one chassis and ClusterXL High Availability operates between chassis. Check Point SyncXL provides for highly efficient synchronization of system and security information between components in order to ensure high system performance. Deploy two chassis in high availability mode to eliminate down-time.
These two platforms improve security, protect business continuity and reduce operational costs in complex, mission critical security environments such as data centers, Managed Service Providers and telecommunication companies. By adding more SGMs companies get more security and performance. Because SGMs are hot-swappable, customers can add SGMs, boosting performance to new or existing 41000 and 61000 systems even when those systems are in production.
Product Benefits
Scalable platform that grows with your business
High port density with 40GbE and 10GbE fiber ports
Full redundancy (N+N, N+1) eliminates down-time
Designed for ease of management and fast deployment
Product Features
Scalable security solution from 3,200 up to 33,000 SecurityPower units
High raw firewall performance of up to 80 Gbps in the 41000 and 400 Gbps in the 61000
Real-world IPS performance up to 25 Gbps in the 41000 and 70 Gbps in the 61000
High port density with up to 30x10GbE, 4x40GbE in the 41000 and 60x10GbE, 8x40GbE in the 61000
Intra/Dual-Chassis redundancy
Carrier grade ATCA compliant chassis
Key Features:
Secures high-demand networks
Delivers unbeatable security performance from 40 to 120 Gbps of real-world throughput
Customers can add modules, boosting performance even when those systems are in production
Protects the most complex networks by supporting dynamic routing protocols
Increases business continuity
Increases reliability with redundant hot-swappable components
Increases availability and load sharing with ClusterXL
Ensures optimal system synchronization and performance with SyncXL
Enhances and extends security as needed with an extensible platform
Makes it easy to add Security Gateway Modules for more security or higher performance
Accommodates any Software Blades to enhance security protections
Provides high port density and high speed connectivity options with Security Switch module
Breakthrough security performance
The 41000 and 61000 Security Systems employ a highly flexible and modular system architecture that significantly boosts security and performance.
The 41000 Security System:
Starts at 3,200 SecurityPower Units, with 1 Security Gateway Module (SGM)
Scales to 11,000 SPUs with 4 SGMs
The 61000 Security System:
Scales easily from 2 to 12 SGMs
Delivers up to 33,000 total SecurityPower Units, 400 Gbps of firewall throughput, and up to 130 Gbps IPS protection when fully loaded with 12 SGM260s
Reliability and high serviceability
We designed both systems to meet the uncompromising high availability and serviceability standards of modern data centers and telcos.
Hot-swappable redundant power supplies, hard disk drives and fans
Carrier-grade availability and serviceability in a rugged rack-mount chassis
Redundant Chassis Management Modules continuously check and monitor chassis health, including fans, power supplies and SGMs
Integrated with extensible Software Blade Architecture
Each 41000 and 61000 Security System is packaged with a group of preselected Check Point Software Blades—including Firewall, IPsec VPN, Identity Awareness, Advanced Networking, and Acceleration and Clustering. Additional Software Blade upgrades are available to further extend and customize protection options.
The Check Point Software Blade architecture is the first and only security architecture that delivers complete, flexible and manageable security to companies of any size. With unprecedented flexibility and expandability, Software Blades deliver lower cost of ownership and cost-efficient protection that meet any need, today and in the future.
Full integration into the modular Software Blade Architecture allows for rapid and easy activation on any Check Point security gateway and to provide integrated and comprehensive protection.
High network capacity
These systems are designed to flexibly scale and support the needs of large, dynamic networks.
The 41000 Security System:
Compact 6u chassis offering
Up to 4xSGM260, 2xSSM160
Up to 80 million concurrent connections at 1.1 million connections per second
The 61000 Security System:
Maximum chassis configuration of 10xSGM260 and 4xSSM160
Supports up to 60 x 10GbE SFP + ports and up to 8 x 40GBase-QSFP ports
Supports up to 210 million concurrent connections and 3 million sessions per second
Carrier grade
The Check Point 41000 and 61000 Security Systems meet the stringent operating conditions required by telecommunications companies.
ATCA-compliant architecture
Compatible with NEBS Level 3 standards
Secures IPv4 and IPv6 networks utilizing Check Point Acceleration and Clustering technology
Supports dynamic routing protocols such as RIP, OSPF, BGP, PIM (spares and dense mode) and IGMP
Fast deployment and centralized management
Using the available local management console and intuitive configuration wizard, the entire system can be deployed in less than 30 minutes. For secure and centralized administration anywhere in the network, these systems also work with the Check Point Security Management Software Blades.
Technical Specifications:
Appliance
41000
61000
Performance
SecurityPower1
3200 to 11000
3200 to 33000
Firewall Throughput (Gbps)
 Raw2
Up to 80
Up to 400
 Production4
Up to 40
Up to 120
VPN AES-128 Throughput (Gbps)
Up to 40
Up to 110
IPS Throughput (Gbps)
 Recommended3
Up to 44
Up to 130
 Production4
Up to 25
Up to 70
Concurrent Connections
up to 80 million
up to 210 million
 Connections per Second
up to 1,100,000
up to 3,000,000
Virtual Systems
Virtual System Support
Yes
Yes
Max VS Supported (Default/Max)
up to 250
up to 250
Hardware Specifications
10GBase-F SFP+ Ports
Up to 30
Up to 60
40GBase-F QSFP  Ports
Up to 4
Up to 8
Expansion Slots
6
14
Security Switch Modules
1 to 2
2 to 4
Security Gateway Modules
1 to 4
2 to 12
Out-of-band Management
Includes 2 Chassis Management Modules (CMM)
Dimensions
Enclosure
6U
15U
Dimensions (standard)
17.64" W x 16.3" D x 10.5" H
17.63" W x 15.2" D x 26.2" H
Dimensions (metric)
448 W x 413.4 D x 266.7mm H
448mm W x 385.6mm D x 665mm H
Max Weight
38.6 kg (84.9 lbs) (Chassis, 3 PSUs, fans, 2 CMM, 4 SGM, 2 SSM)
65.84 kg (145 lbs.) (Chassis, 4 PSUs, fans, 2 CMM, 12 SGM, 2 SSM)
Environment
Operating Environment
Temperature: 23° to 131°F / -5° to 55°C; Relative Humidity 5% to 90% (non-condensing)
Non-Operating Environment
Temperature: -40° to 158°F / -40° to 70°C; Relative Humidity 5% - 95% (non-condensing)
Power
Redundant, Hot-Swap PSUs
3 AC or 2 DC
4 AC or 2 DC
AC Power Supplies
No. of modules: 3 (max) Input: 100-240VAC, 50-60Hz Single module output: 1200W @ 110V, 1500W @ 220V
No. of modules: 4 (max) Input: 100-240VAC, 47-63Hz Single module output: 2500W @ 208V/230V, 1500W @ 110V (USA), 1300W @ 100V (Japan)
DC Power Supplies
No. of modules: 2 (max) Input: -48VDC to -60 VDC 125A
No. of modules: 2 (max) Input: -48V to -60V, four feeds per module, 50 Amps per feed
Power Consumption (Max)
2300W
4900W
Thermal Output (Max)
7847.9 BTU/hour
16719.5 BTU/hour
Certifications
Safety
UL
CB, UL/cUL/SCA, TUV
Emissions
CE, FCC part 15
CE, FCC part 15, VCCI, C-Tick
Environmental
RoHS
RoHS

1 Check Point's SecurityPower is a new benchmark metric that allows customers to select security appliances by their capacity to handle real-world network traffic, multiple security functions and a typical security policy
2 Raw throughput is based on RFC 3511 with 1518 bytes UDP packets
3 Recommended IPS profile, IMIX traffic blend
4 Assumes maximum production throughput environment with real-world traffic blend, a typical rule-base size, NAT and logging enabled and the most secure threat prevention protection
Software Blade
Gateway Mode
Virtual System Mode
Firewall
IPSec VPN
Identity Awareness
Advanced Networking & Clustering
IPS
Application Control
URL Filtering
Antivirus 
Anti-Bot
DLP
Mobile Access
- Supported
- Not Supported