Check Point 620 Security Appliance

Big security for small offices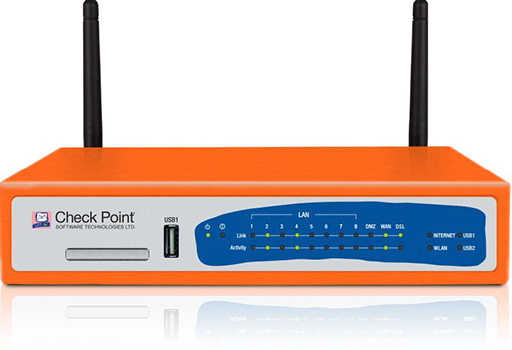 Sorry, this product is no longer available, Please, contact us for a replacement product!
Click here to jump to more pricing!
Overview:
Your Challenge
As small businesses rely more and more on the Internet to conduct business, they also face more threats to their network, computers and data. With a lack of IT security knowledge and resources, maintaining a high level of security to combat these threats is a challenge. Today's small businesses need a simple, yet comprehensive security solution to secure their assets and minimize the risks of a data breach.
Our Solution
The Check Point 600 Appliances deliver enterprise-grade security in a simple, affordable, all-in-one security solution to protect small business employees, networks and data from cyber-theft.
This one device offers integrated, multi-layered security; Firewall, VPN, IPS, Antivirus, Application Visibility & Control, URL Filtering and Email Security—all in a quiet, compact desktop form-factor. The 600 Appliance runs the same industry-leading security that is used to secure Fortune 100 companies.
The Check Point 600 Appliance family includes a simple, yet comprehensive webbased local management interface for setting and monitoring security. With the first time configuration wizard and pre-defined security policies; setup is done in minutes, even by non-IT professionals. Ongoing monitoring and maintenance is simple and intuitive using comprehensive monitoring tools and periodic reports. Out-of-the-box security policies are based on security Industry best practices.
To simplify your management further, choose the Cloud-based Managed Security option. This innovative service offers small businesses the choice of a full Managed Security service for a small monthly fee, freeing them to focus on their core business and leaving Security Management and Network Protection to security professionals.
All 600 Appliances come standard with 10 x 1 Gbps Ethernet ports. For added flexibility and convenience, the wireless version of the 600 Appliance includes a Wi-Fi access point (802.11b/g/n) that supports WEP, WPA and WPA2 authentication as well as secured guest access capabilities. The optional integrated ADSL modem eliminates the need for a separate external ADSL modem. Additionally, the included USB ports and PCI Express card slot allows an administrator to plug in a compatible third party 3G modem, providing an additional WAN connection for a redundant Internet link for maximum reliability. With a maximum of 37 SecurityPower Units and 1.5 Gbps of firewall throughput, the 600 Appliance has the performance that small
Features
Enterprise leading security
Highest ranked Next Generation firewall
Simple and intuitive local management for small businesses
Cloud-based Security Services management option
Multiple internet access options including Ethernet, ADSL and 3G
Integrated wireless security with guest access
Benefits
Protect your employees and your data
Setup security for your business in minutes with easy & intuitive web-based management
Trust the experts with the cloud-based security management option
One stop shop for connectivity and security
Create multiple wireless access networks, enabling guest access to the Internet while limiting access to the corporate network
Pricing Notes:
Pricing and product availability subject to change without notice.
Appliances license cannot be used on any other system other than the dedicated appliance.
When building a cluster configuration, all cluster members must be of the same appliance.
All 620 appliances include Firewall, VPN, Advanced Network & Clustering blades, Identity Awareness and Mobile Access (for 5 users) blades.
Pre-packaged blades are not accumulative and cannot be extracted from the appliance.
The software license for the 600 appliance is generated based on the system s unique MAC address (not the IP address assigned to the system).
License includes support for central or local management.
FCCA wireless devices refer to radio frequencies used in North America. MKKA wireless devices refer to radio frequencies used in Japan; and WORLD wireless devices refer to radio frequencies used for the rest of the world.
Hardware warranty is for 1 year.
Recommended for up to 10 users with all Next Generation Threat Prevention blades enabled.
On site RMA services are not available on all 600 appliance.
The 2A replacement power supply is suitable for the wired only models (models without wireless and/or ADSL).
Check Point Products
Check Point 620 Accessories
Replacement Power Supply 2A for 600/1100 (Wired Only) - US
#CPAC-PSU-2A-600/1000-US
List Price:
$60.50
Our Price: $50.26
Replacement Power Supply 2.5A for 600/1100 (Wireless & ADSL) - US
#CPAC-PSU-2.5A-600/1000-US
List Price:
$60.50
Our Price: $50.26
Additional Software Blades
Check Point Mobile Access blade for up to 50 concurrent connections
#CPSB-MOB-50
List Price:
$1,730.00
Our Price: $1,437.11