Check Point X Series Platform

Provide organizations with the ultimate choice in carrier-grade chassis

Check Point X Series Appliances provide organizations with the ultimate choice in carrier-grade chassis. The X Series platform delivers integrated software and hardware solutions that are customized to customers' demanding security needs—all while maintaining the highest network performance required.
Check Point X Series Lineup: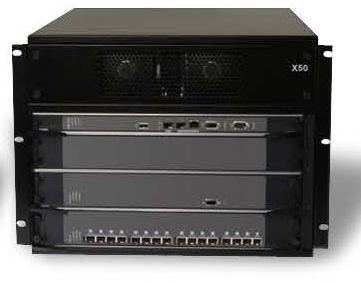 17.6 Gbps Real-World Platform Performance
150 K Stateful Connections per Second
18 M Maximum Concurrent Connections
220 K Stateless Connections per Second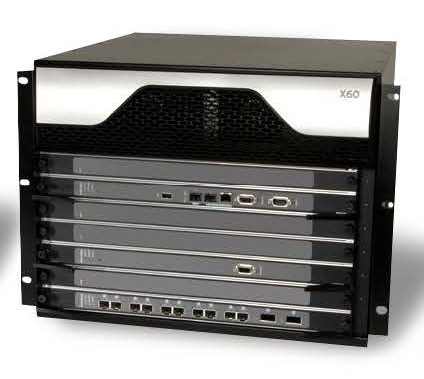 70 Gbps Real-World Platform Performance
300 K Stateful Connections per Second
70 M Maximum Concurrent Connections
550 K Stateless Connections per Second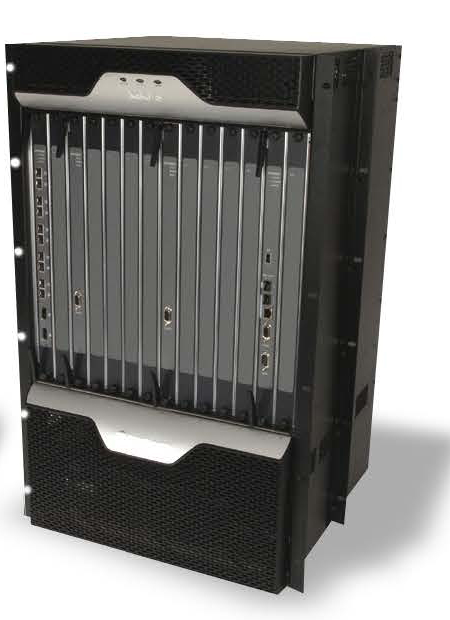 140 Gbps Real-World Platform Performance
600 K Stateful Connections per Second
100 M Maximum Concurrent Connections
1.1 M Stateless Connections per Second
Overview:
Check Point Security Gateway
The Check Point Software Blade architecture supports a complete and increasing selection of Software Blades, each delivering a modular security gateway or security management function. As Software Blades are modular and flexible, they enable organizations to efficiently and quickly tailor security application functionality to specific and changing security needs. New software blades are easily added and licensed as needed without the addition of new hardware.
Check Point Security Gateway On the X-Series Platform
Combining the Check Point software and blade architecture with the Blue Coat integrated application platform provides an unmatched, extensible solution that is trusted by large enterprises and service providers around the world. The software blade or virtualized software blade approach allows customers to choose from multiple Check Point applications, increasing flexibility of security services. The integration of the X-Series Platform with the Check Point Software Blade Architecture results in a unique and powerful solution that helps organizations:
Simplify datacenter complexity through the consolidation of numerous, disparate appliances onto a single X-Series system.
Deliver an extensible solution that readily adapts to the ever-changing security demands on business.
Achieve unsurpassed reliability and stability of critical communications that meet tomorrow's growing business uptime demands.
Improve operational efficiency while reducing the management and maintenance demands and costs within datacenter environments.
Protect business critical assets while maintaining the highest network performance.
In support of simplifying the customer experience, Blue Coat has expanded its relationship with Check Point to directly sell the X-Series product line when deploying Check Point software. Customers now have a single, trusted partner for sales, application integration and support. The Check Point X-Series Platform is available to organizations worldwide starting in 2014.
An Unmatched, Integrated Security Platform
The X-Series platform coupled with the Check Point Security Gateway provides unsurpassed performance for today's best-of-breed security software applications. Whether deployed as a Check Point only solution or utilized with other security applications provided by different Partners, the X-Series platform delivers unmatched consolidation, adaptability, availability and operational efficiency.
Consolidation
Blue Coat and Check Point reduce complexity by consolidating firewall appliances with associated networking equipment into one adaptable platform. Up to 100 network and firewall devices can be consolidated within one X-Series platform, reducing time, operating costs, energy consumption, and complexity. Coping with more than 100 million concurrent firewall sessions, 600,000+ new stateful connections per second, and a realworld firewall throughput of 140Gbps, the X-Series delivers the performance needed by the most demanding environments.
Adaptability
Many organizations do not have a clear view of what changes will occur in the future regarding performance or security requirements. The only thing that is certain is there will be change. The X-Series platform enables Check Point application acceleration, virtualization and optimization to better meet the growing demands of today's businesses, without having to re-architect the physical network. Whether deployed as a Check Point- only security application platform or as a multiple-application platform comprised of Check Point and other complementary Blue Coat Partner technologies, the end result is a powerful, reliable, high-performance solution that readily adapts to the organization's security needs. This flexibility assures that the X-Series platform will continue supporting their business needs for many years to come.
Automation
The uptime demands on the network have never been higher and gone are the days when scheduled downtime was acceptable. Many many organizations strive for zero-downtime network environments. The X-Series solution provides adaptive self-healing through patented technology, which uses dynamic back-up modules or prioritization to assure key security applications remain functioning at full capacity if a module becomes unavailable. The X-Series combines superior networking, exceptional processing, and an open application architecture, to eliminate network and firewall outages.
Operational Efficiency
IT organizations are tasked to do more with less. The X-Series solution minimizes the number of devices required to secure today's fastest, most demanding networks by reducing the number of Layer 2 switches, load balancers, patch panels, cabling and power. The X-Series management capabilities streamline configuration and provide visibility into the entire solution; from individual chassis, to specific modules, to traffic flows and applications. This readily provides organizations with the appropriate information needed to effectively and quickly make decisions about maintaining their security infrastructure and protecting their business. Overall, the X-Series platform enables IT organizations to secure and run their businesses more proficiently with lower CapEx and OpEx costs.
Features & Benefits:
Features
Maximum Security and Performance
Ensure availability of business-critical applications with up to 140 Gbps of firewall and IPS throughput, combined with hardware-based load balancing and a 160 Gbps back plane for future expansion. With Check Point Virtual Systems, hundreds of high performance virtual firewalls can be consolidated on a single X Series chassis. The X Series solution reduces complexity by consolidating network functions and security applications in a single platform, while preserving application choice.
Infrastructure Consolidation
The Check Point X-Series allows enterprises and service providers to easily consolidate network infrastructure (switches, load balancers, patch cabling and power cords) and appliances that support security applications. It dramatically simplifies and accelerates deployment and on-going management of data center network resources. The net effect is that organizations can consolidate devices with a ratio of up to 100:1. That means fewer devices to manage, a smaller footprint in the data center and a reduced total cost of ownership.
Virtualized Security Consolidation
The Virtual System security platform is a security gateway that enables the creation of hundreds of security systems on a single hardware platform, delivering significant cost savings and efficient infrastructure consolidation. Based on proven Check Point security technologies, Virtual Systems provides best-in-class firewall, VPN, URL filtering and intrusion prevention technology to multiple networks, securely connecting them to each other and shared resources, such as the Internet and DMZs. All security systems, virtual and physical, are centrally managed through Check Point Security Management or Multi-Domain Security Management consoles. Powerful turnkey Virtual Systems on X Series systems further reduce deployment costs while delivering carrier-class reliability and scalability.
Integrated with a flexible Software Blade Architecture
The Check Point Software Blade architecture is the first and only security architecture that delivers complete, flexible and manageable security to companies of any size. With unprecedented flexibility and expandability, Software Blades deliver lower cost of ownership and cost-efficient protection that meet any need, today and in the future.
Full integrationof the X Series platform with the modular Software Blade Architecture allows for rapid and easy activation on any Check Point security gateway.
Benefits
Combine best-of-breed software security applications with industryleading consolidation, adaptability, availability and operational efficiency
Implement a Check Point only solution or integrate Check Point applications with other Blue Coat partner applications
Support multiple instances of Check Point applications via VSX to create hundreds of individual security systems on a single blade
Integrated, customizable solution to meet specific business needs
Extensible, on-demand security via modular hardware and software Security Blade Architecture
Choose from Security Gateway Software Blades or Virtual Systems with the ability to run multiple or different instances of these applications simultaneously on the same chassis
Choose from Single or Multi-Domain Security Management for administering large deployments
Support multiple separate segments on a single platform via virtualization
Security for the most demanding environments
Combines best-in-class security Software Blades with IMIX performance of up to 140 Gbps
Carrier-grade platform ensures availability of business-critical applications
Highly reliable chassis unifies network processing and application processing in a single platform
Trusted and proven software and hardware combination
Trusted by the largest organizations in the world, including the Global 100
Designed for redundancy, high availability and self-healing in complex networks
Single point of contact for hardware, software and technical support