Mobile Security

Prevent Cybercriminals from Taking Over Your Mobile Device
Today every business is a mobile business, with requirements to safeguard business data, provide secure mobile access to business documents and keep mobile devices safe from threats. Check Point enterprise mobile security solutions provide the widest range of products to help you secure your mobile world.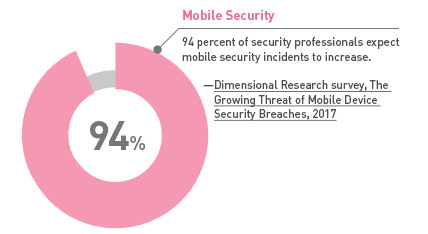 Mobility increases risk of breach
Mobile technology has made the network security challenge much bigger and more diverse. Use of mobile devices and apps has introduced a wide range of new attack vectors and new data security challenges for IT.
94 percent of security professionals expect mobile security incidents to increase
64 percent of security professionals doubt their companies can prevent a mobile breach
Early mobile security market solutions addressed specific pain points, but they fail to provide comprehensive protections. The dismal statistics on mobile data security clearly indicate that attackers are exploiting coverage gaps and leaving organizations vulnerable to devastating—and embarrassing—breaches.
Unsecured devices are the norm
Your employees use a wide variety of personal devices on the job, but few companies bother to secure them.
36 percent of companies inadequately secure mobile devices
38 percent of companies deployed a mobile threat defense solution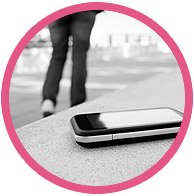 Advanced Protection
SandBlast Mobile protects employees' devices from infected apps, man-in-the-middle attacks over Wi-Fi, OS exploits, and malicious links in SMS messages.

Highest Catch Rate
SandBlast Mobile is the recognized leader in the mobile threat defense category, with the highest threat catch rate on the market.

Full Threat Visibility
SandBlast Mobile's cloud-based dashboard provides real-time threat intelligence and visibility into the type of threats that could impact your business.
How SandBlast Mobile Works
Only SandBlast Mobile provides a complete mobile security solution that protects employees' devices from all attack vectors.
Malware-infected apps
Man-in-the-middle attacks over Wi-Fi networks
Zero-day malware
OS exploits
Malicious links sent via SMS