Check Point Next Generation Threat Prevention

A multi-layered line of defense
---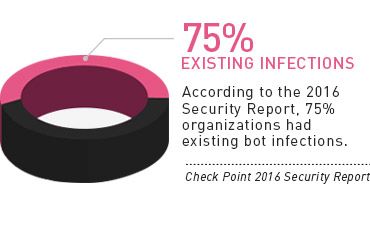 Integrated, multi-layer defense-in-depth
Realizing that status quo security is inadequate, many enterprises find themselves adding a disparate mix of new security technologies from a variety of vendors. These point tools often provide an incremental advantage in one area, but each must be managed individually, including reporting, provisioning, configuration and testing tasks. Check Point offers a comprehensive solution, with:
A full range of interoperable threat prevention blades
Common policy management and monitoring
Maximum protection from emerging threats
---
Easy deployment and lower cost of ownership
Growing complexity in security infrastructure puts a huge strain on the efficiency of the security organization. Operators must constantly update firewall policies, build and provision new network resources and test the effects of changes on the network at large. Worse, the data they need to monitor is scattered in different silos. But with a single, consolidated view of the security infrastructure, security professionals can do more work with less stress and redundancy, thus reducing operational expenditures.
Consolidation and integration of multiple security appliances using a Next Generation Threat Prevention methodology results in greater efficiency and lower costs. According to an analysis by Lippis Consulting in 2015, Next Generation Threat Prevention from Check Point is one-half to one-third the cost of multi-vendor security implementations.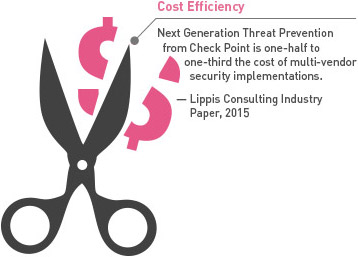 ---
SandBlast Zero-Day Protection
Attackers have become more creative, reaching corporate resources with modern and complex malware attacks. Check Point SandBlast Zero-Day Protection combines innovative technologies to proactively protect against even the most dangerous targeted attacks and unknown malware, while ensuring quick delivery of safe content.
Threat Prevention Appliances and Software
Protecting your organization against the most sophisticated malware and pre- and post- infection damage is a necessity today. Our threat prevention cyber security appliances and specialized Software Blades enable you to protect your network with multi-layered defense against cyberattacks.
Threat Intelligence
With the threat landscape evolving at an exponential rate, we have to remember to stay informed and be prepared for what's next. Our ThreatCloud IntelliStore, Incident Response and Managed Security Services provide tools to help your organization stay one step ahead of attackers and mitigate future risks.
Web Security
Web-borne malware is more clever than ever. Check Point Web Security solutions provide real-time protection for secure use of the web and educate users on web-use policy. We deliver the largest application coverage in the industry, with advanced granular control and intuitive centralized management.
DDoS Protection
Distributed denial-of-service (DDoS) attacks can be unleashed by anyone, but with a little preparation, you can prevent service disruptions caused by DDoS. Check Point DDoS-P (DDoS Protection) uses a hybrid of dedicated on-premises and cloud-based resources to defend against volumetric, application, reflective and resource exhaustive DDoS attacks.