Check Point SandBlast Cloud

Industry-leading zero-day protection for Microsoft Office 365™ cloud email environments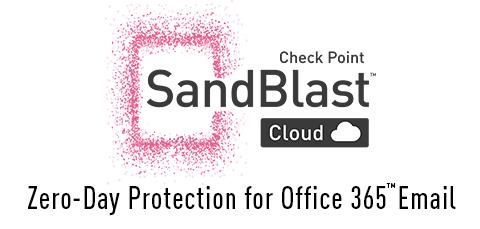 Sorry, this product is no longer available, Please, contact us for a replacement product!
Overview:
Product Benefits
Complete protection from known and unknown threats for cloud-based email environments
Best catch rate of unknown threats and zero-day malware
Rapid reconstruction of files for immediate access to safe content
Ensures email continuity to maintain full user and business productivity
Consistent and intuitive user experience
Easy to deploy and manage
Seamless integration with existing infrastructure
Product Features
Includes multiple layers of defenses: Antivirus, URL reputation, Threat Emulation, Threat Extraction
Deep malware inspection at the CPU-level, where exploits cannot hide
Inspects broad range of documents and common file-types
Removes active content and other exploitable content from documents
API-level integration ensures email continuity
Full visibility and policy customization through cloud-based management porta
Pure cloud solution – makes it easy to get up and running quickly
Insights
The increasing adoption of cloud email tools such as Microsoft Office 365™ enables businesses to efficiently communicate and collaborate, without investing resources in managing and maintaining their own dedicated IT infrastructure. However, the shift to cloud-based tools also brings with it an array of security risks, including susceptibility to sophisticated attacks such as ransomware and spear-phishing which use email as a primary entry point.
Traditional security solutions such as Antivirus that protect against known threats are an essential part of a comprehensive security plan, but are no longer enough on their own. With hackers constantly modifying their strategies and techniques to remain elusive and achieve their goals, it's become critical for organizations to stay one step ahead of unknown malware and zero-day attacks, regardless of their environment.
So how can organizations ensure a balance between leveraging the benefits of deploying cloud-based email, while maintaining robust protection against modern malware?
Solution
Check Point SandBlast™ Cloud leverages the full capabilities of SandBlast Zero-Day Protection to bring best-in-class proactive protection from known threats, unknown malware and zero-day attacks to Office 365 users. With multiple layers of defenses, transparently applied to all incoming content, SandBlast Cloud keeps malware from ever reaching users. Antivirus and URL Reputation protections within SandBlast Cloud leverage real-time intelligence from the ThreatCloud database to secure against the latest threats from known sources.
Advanced threat protection capabilities, including Threat Emulation and Threat Extraction elevate defenses against zero-day and unknown malware for cloud-based email users. Threat Emulation sandboxing performs deep CPU-level inspection, stopping even the most dangerous attacks before malware has an opportunity to deploy and evade detection. Threat Extraction complements Threat Emulation by ensuring quick delivery of safe content to your users through the elimination of exploitable content and reconstruction of files with only known safe elements.
SandBlast Cloud utilizes Microsoft APIs for deep integration, allowing a transparent user experience while ensuring full email continuity.
Check Point SandBlast Cloud – a simple, seamless and complete advanced threat protection solution for Office 365 email environments