Check Point Smart-1 150 Appliance

Extensible Security Management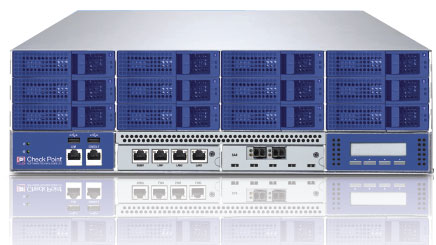 Sorry, this product is no longer available, Please, contact us for a replacement product!
Check Point Smart-1 Overview:
Smart-1 appliances deliver Check Point's market leading security management software blades on a dedicated hardware platform specifically designed for mid-size and large enterprise security networks. Based on Check Point's software blade architecture, the Smart-1 appliances are first to deliver a unified management solution for network, IPS and endpoint security with unsurpassed extensibility.
The Check Point Smart-1 150 appliance offers advanced, turnkey security management for large service providers with more than 150 gateways. It has a capacity of up to 6 TB of integrated log storage to meet the most demanding compliance requirements.
Base Configuration
4 1GbE LAN ports
Console port
LOM port
2 USB ports
4 (up to 12) 1TB hard disk drives
Benefits
Provides a comprehensive set of security management Software Blades in a turnkey security management appliance
Maximize efficiency with a single unified management console for network and endpoint security
Ensure operational continuity for the most demanding environments n Reduce costs and conserve resources with up to 6 TB of built-in storage capabilities
Get more security by segmenting your management into multiple virtual domains with Multi-Domain Security Management
Smart-1 Pricing Notes:
Global Policy software blade and Multi-Domain Security Management are supported only with Smart-1 50 and Smart-1 150 appliances.
Additional Security Domain software blade can be added using the standard Software domain SKUs.
Smart-1 50 is limited to 50 GWs (standard Security Management) or up to 50 domains (as a Multi-Domain Security Management). The Smart-1 50 (as standard Security Management) can be expanded up to 150 gateways using the CPSM-C500 container extension.
Smart-1 150 is limited to 50 domains (Multi-Domain Security Management).
Smart-1 50/150 for Multi-Domain Security Management include the following blades: NPM, EPM, LOGS, MNTR, PVRS, MPTL, UDIR, GBLP.
SmartEvent, SmartEvent Intro and SmartReport blades cannot be installed on Smart-1 50/150 running Multi-Domain Security Management. To run these blades, a dedicated server and Security Management container are required
Smart-1 appliances include version R70, together with image management capabilities. In case NGX R65 is required; please specify accordingly in the order.
The number of managed gateways can be extended using CPSM-C500.
Smart-1 25,50 and 150 appliances include Lights Out Management capabilities through dedicated LOM interface.
Smart-1 license cannot be used on any other system other than the dedicated Smart-1 appliance.
Hardware warranty is for 1 year.