Check Point Smart-1 50 Appliance

Extensible Security Management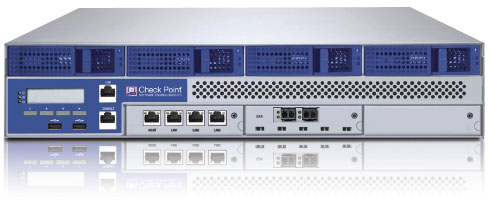 Sorry, this product is no longer available, Please, contact us for a replacement product!
Check Point Smart-1 Overview:
Smart-1 appliances deliver Check Point's market leading security management software blades on a dedicated hardware platform specifically designed for mid-size and large enterprise security networks. Based on Check Point's software blade architecture, the Smart-1 appliances are first to deliver a unified management solution for network, IPS and endpoint security with unsurpassed extensibility.
The Check Point Smart-1 50 appliance offers advanced, turnkey security management for enterprises and service providers with 50 to 150 gateways. It has a capacity of up to 2 TB of integrated log storage.
Base Configuration
4 1GbE LAN ports
Console port
LOM port
2 USB ports
4 1TB hard disk drives in a RAID 10 configuration
Benefits
Provides a comprehensive set of security management Software Blades in a turnkey security management appliance
Maximize efficiency with a single unified management console for network and endpoint security
Ensure operational continuity for the most demanding environments
Get more security by segmenting your management into multiple virtual domains with Multi-Domain Security Management
Features:
Integrated network, IPS, and endpoint security management
Smart-1 Appliances provide central management for all Check Point products. From SmartDashboard, an administrator can define and enforce firewall, VPN, IPS, endpoint and more policies, track logs, monitor security and network activity, view reports on network and security activity trends, and centrally distribute security and software updates.
Built-in support for SANs and up to 12TB of on-board RAID storage
Smart-1 Appliances provide up to 12 TB of built-in storage as well as high performance fibre channel connectivity to SANs for backup, disaster recovery, and compliance.
High degree of reliability and serviceability with redundant and hot-swappable components and integrated Lights-Out-Management (LOM)
Smart-1 Appliances support Lights-Out Management (Out-of-Band Management) allowing users to remotely monitor and control the appliance, including device maintenance and administration. Several add-on options are available including a Fibre Channel SAN module, redundant, hot swappable power supply and hard drives.
Multi-Domain Security Management
Get more security and control by segmenting your security management into multiple virtual domains.
Any size business can benefit—easily creating virtual domains based on geography, business unit or security function to strengthen security and simplify management.
Specifications: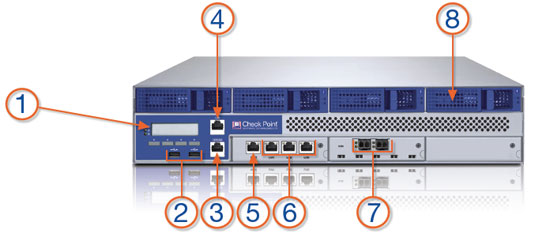 Console port
USB ports
LOM port
Management port
LAN ports
On\Off button
Hard disk drives
Smart-1 Management Software Blades
Smart-1 Appliances
5
25
50
150
Managed Gateways
5 up to 25
25 up to 50
50 up to 150
150 up to unlimited
Managed Domains
1
1
1 up to 3/5/10/50
3 up to 5/10/50
Multi-Domain Security Management
(Provider-1)
-
-
Network Policy Management
Endpoint Policy Management
Logging and Status
SmartProvisioning
Monitoring
O
User Directory
O
SmartEvent Intro
O
*
*
Management Portal
O
O
O
O
SmartWorkflow
O
O
O
O
SmartEvent
X
O
O*
O*
SmartReporter
X
O
O*
O*
Global Policy Blade
X
X
O
O
Domain Blades
X
X
O
O
- Included
O - Optional
X - Not supported
* - Not supported on Smart-1 appliances running Multi-Domain Security Management
Smart-1 Product Highlights
Smart-1 Appliances
5
25
50
150
Management HA
Included
Included
Included
Included
Logs/sec
7,500
14,000
30,000
30,000
Storage
1 x 0.5 TB
4 x 0.5 TB
4 x 1 TB
4 x 1 TB, up to 12 TB
Storage Type
-
RAID 10
RAID 10
RAID 10
Fibre Channel SAN card
-
-
Optional
Optional
Out-of-band management
-
Integrated
Integrated
Integrated
SecurePlatform
Secure OS
Pre-hardened, optimized operating system
Web based administration
Enables quick, easy, and secure administration from anywhere in the network
Backup and restore
For disaster recovery planning
Centralized administrative rights
RADIUS authentication and RADIUS groups
Smart-1 Hardware Specifications
Smart-1 Appliances
5
25
50
150
Enclosure
1U
1U
2U
3U
Built-in Interfaces
5 Copper GbE
5 Copper GbE
4 Copper GbE
4 Copper GbE
Dimensions (standard)
17 x 10.9 x 1.75 in.
17 x 21.7 x 1.75 in.
22.8 x 17.4 x 3.5 in.
24.9 x 17.4 x 5.2 in.
Dimensions (metric)
431 x 277 x 44 mm
431 x 551 x 44 mm
580 x 442 x 88 mm
632 x 442 x 131 mm
Weight
6kg
(13.2 lbs)
13kg
(28.7 lbs)
23.5kg
(51.8 lbs)
29.5kg
(65 lbs)
LCD Display
-
Power supply
1
2
2
3
Power Input
AC 100 ~ 240V @ 50 ~ 60Hz
AC 100 ~ 240V @ 50 ~ 60Hz
AC 90 ~ 264V @ 47 ~ 63Hz
AC 90 ~ 264V @ 47 ~ 63Hz
DC Option
-
-
-
Power Supply Spec (Max)
150W
2 x 250W
2 x 600W
3 x 930W
Power Consumption (Max)
70.5W
135.8W
505.3W
399.6W
Operating environment range
Temperature: Ambient operating 0~40C, Humidity: 5~95% non-condensing (RH)
Compliance
CE, FCC Class A, RoHS
Smart-1 Pricing Notes:
Pricing and product availability subject to change without notice.
Global Policy software blade and Multi-Domain Security Management are supported only with Smart-1 50 and Smart-1 150 appliances.
Additional Security Domain software blade can be added using the standard Software domain SKUs.
Smart-1 50 is limited to 50 GWs (standard Security Management) or up to 50 domains (as a Multi-Domain Security Management). The Smart-1 50 (as standard Security Management) can be expanded up to 150 gateways using the CPSM-C500 container extension.
Smart-1 150 is limited to 50 domains (Multi-Domain Security Management).
Smart-1 50/150 for Multi-Domain Security Management include the following blades: NPM, EPM, LOGS, MNTR, PVRS, MPTL, UDIR, GBLP.
SmartEvent, SmartEvent Intro and SmartReport blades cannot be installed on Smart-1 50/150 running Multi-Domain Security Management. To run these blades, a dedicated server and Security Management container are required
Smart-1 appliances include version R70, together with image management capabilities. In case NGX R65 is required; please specify accordingly in the order.
The number of managed gateways can be extended using CPSM-C500.
Smart-1 25,50 and 150 appliances include Lights Out Management capabilities through dedicated LOM interface.
Smart-1 license cannot be used on any other system other than the dedicated Smart-1 appliance.
Hardware warranty is for 1 year.