Check Point X80 Security Gateway

Provide organizations with the ultimate choice in carrier-grade chassis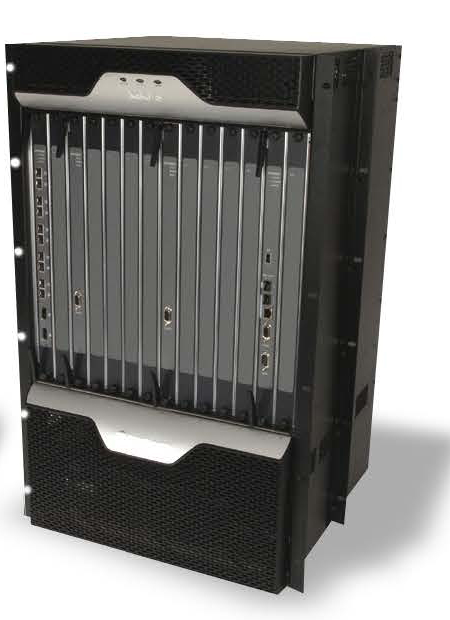 Sorry, this product is no longer available, Please, contact us for a replacement product!
Overview:
Check Point X Series Appliances provide organizations with the ultimate choice in carrier-grade chassis. The X Series platform delivers integrated software and hardware solutions that are customized to customers' demanding security needs—all while maintaining the highest network performance required.
Integrated, customizable solution to meet specific business needs
Extensible, on-demand security via modular hardware and software Security Blade Architecture
Choose from Security Gateway Software Blades or Virtual Systems with the ability to run multiple or different instances of these applications simultaneously on the same chassis
Choose from Single or Multi-Domain Security Management for administering large deployments
Support multiple separate segments on a single platform via virtualization
Security for the most demanding environments
Combines best-in-class security Software Blades with IMIX performance of up to 140 Gbps
Carrier-grade platform ensures availability of business-critical applications
Highly reliable chassis unifies network processing and application processing in a single platform
Trusted and proven software and hardware combination
Trusted by the largest organizations in the world, including the Global 100
Designed for redundancy, high availability and self-healing in complex networks
Single point of contact for hardware, software and technical support
Features:
Maximum Security and Performance
Ensure availability of business-critical applications with up to 140 Gbps of firewall and IPS throughput, combined with hardware-based load balancing and a 160 Gbps back plane for future expansion. With Check Point Virtual Systems, hundreds of high performance virtual firewalls can be consolidated on a single X Series chassis. The X Series solution reduces complexity by consolidating network functions and security applications in a single platform, while preserving application choice.
Infrastructure Consolidation
The Check Point X-Series allows enterprises and service providers to easily consolidate network infrastructure (switches, load balancers, patch cabling and power cords) and appliances that support security applications. It dramatically simplifies and accelerates deployment and on-going management of data center network resources. The net effect is that organizations can consolidate devices with a ratio of up to 100:1. That means fewer devices to manage, a smaller footprint in the data center and a reduced total cost of ownership.
Virtualized Security Consolidation
The Virtual System security platform is a security gateway that enables the creation of hundreds of security systems on a single hardware platform, delivering significant cost savings and efficient infrastructure consolidation. Based on proven Check Point security technologies, Virtual Systems provides best-in-class firewall, VPN, URL filtering and intrusion prevention technology to multiple networks, securely connecting them to each other and shared resources, such as the Internet and DMZs. All security systems, virtual and physical, are centrally managed through Check Point Security Management or Multi-Domain Security Management consoles. Powerful turnkey Virtual Systems on X Series systems further reduce deployment costs while delivering carrier-class reliability and scalability.
Integrated with a flexible Software Blade Architecture
The Check Point Software Blade architecture is the first and only security architecture that delivers complete, flexible and manageable security to companies of any size. With unprecedented flexibility and expandability, Software Blades deliver lower cost of ownership and cost-efficient protection that meet any need, today and in the future.
Full integrationof the X Series platform with the modular Software Blade Architecture allows for rapid and easy activation on any Check Point security gateway.
Technical Specifications:
X60 and X80-S Hardware Specifications
Appliance
X60
X80-S
RFC 3511, 2544, 2647, 1242 Performance Tests (LAB)
Firewall IMIX Chassis Throughput (Gbps)
Up to 16 Gbps per APM; Up to 70 Gbps per chassis
Up to 16 Gbps per APM; Up to 140 Gbps per chassis
Concurrent Connections
up to 70M
up to 100M
 XOS Stateful Connections per Second
300K
600K
 XOS Stateless Connections per Second
550K
1.1M
Network
Interfaces
Up to 32 x 1Gb SFP / 10Gb SFP+ (16 per NPM)
Up to 64 x 1Gb SFP / 10Gb SFP+ (16 per NPM)
Modules Support
Up to 2 NPM-x, up to 5 APM-x, up to 2 CPM-x
1Up to 4 NPM-x, up to 10 APM-x, up to 2 CPM-x
Maximum Modules
up to 7 modules total
up to 14 modules total
Application Processor Modules (APM) Details
<#colspan#
Processors (per APM)
4, 8 or 12 core options
System Memory (per APM)
Up to 24 GB
Disk Size (per APM)
Up to 2 x 450GB SAS with RAID 1
Additional Features
Check Point Software
R77, R76, R75.40, R75.40VS, R75.20, R75, R71.10; Firewall-1 GX 5.0
Supported Operating System
XOS 9.0.x, 9.5.x, 9.6.x and 9.7.x
High Availability Option
Dual Box High Availability (DBHA) with another chassis of the same model
System Management
X-Series Management System (XMS), Greenlight Elelment Manager (GEM), Command line interface (CLI) with automated workflow system (AWS), SNMP v1 v2 v3 and NetFiow v5 v9 v10 support
Physical
Form Factor/Size
13.5" H, 17.5" W, 19" D
29" H, 17.5" W, 17.5" D
Operating Environment
Temperature 0 to 40' C (32-104'F); Humidity: 10%- 90% non-condensing; Altitude: 3048m (10,000ft.)
Certification
Network Equipment Building System (NEBS) Compliant; Under evaluation for Common Criteria EAL4+
Chassis Regulatory Compliance
RoHS, UL 60950, IEC 950, FCC 47 CFR Part 15 Class A, EN 55022: EN 55024, VCCI V-3: AS/NZS 3548: 1995 : CNS 13438 Class A
Green IT Compliancy
High-efficiency power system up to 91 percent, WEEE Directive, ISO 14001, RoHS compliant
Power
Power Specifications
100-240 VAC 2,700W Rated Maximum
100-240 VAC 5,100W Rated Maximum or 48V DC 100A
Hot-Swappable PSUs (per system)
Ships with 2 x 1,200W 120-240 VAC PSUs
4 PSUs supported
Status Indicators
Power Supply and Module Active I Failed status LED, Port Link (NPM, CPM), Minor/Major/Critical Alarm LEDs
X20, X30 and X50 Hardware Specifications
Appliance
X20
X30
X50
RFC 3511, 2544, 2647, 1242 Performance Tests (LAB)
Firewall IMIX Chassis Throughput (Gbps)
up to 5 Gbps
up to 10 Gbps
up to 18 Gbps
Concurrent Connections
up to 8M
up to 8M
up to 18M
 XOS Stateful Connections per Second
120K
120K
150K
 XOS Stateless Connections per Second
NA (not enabled)
NA (not enabled)
220K
Network
Interfaces
10 x 1Gb SFP ports
10 x 1Gb SFP ports; 2 x 10Gb XFP ports
Up to 64 x 1Gb SFP / 10Gb SFP+ (16 per NPM)
Modules Support
1 NPM-x, up to 2 APM-x, and 1 CPM-x (included)
Maximum Modules
up to 4
Application Processor Modules (APM) Details
Processors (per APM)
8 core
4, 8 or 12 core options
System Memory (per APM)
Up to 16 GB
Up to 12 GB
Disk Size (per APM)
Up to 2 x 500GB SATA Hard Drives with RAID 1
Up to 2 x 450GB SAS with RAID 1
Additional Features
Check Point Software
R77, R76, R75.40, R75.40VS, R75.20, R75, R71.10; Firewall-1 GX 5.0
Supported Operating System
XOS 9.0.x, 9.5.x, 9.6.x and 9.7.x
High Availability Option
Dual Box High Availability (DBHA) with another chassis of the same model
System Management
X-Series Management System (XMS), Greenlight Elelment Manager (GEM), Command line interface (CLI) with automated workflow system (AWS), SNMP v1 v2 v3 and NetFiow v5 v9 v10 support
Physical
Form Factor/Size
13.5" H, 17.5" W, 19" D
29" H, 17.5" W, 17.5" D
29" H, 17.5" W, 17.5" D
Operating Environment
Temperature 0 to 40' C (32-104'F); Humidity: 10%- 90% non-condensing; Altitude: 3048m (10,000ft.)
Certification
Network Equipment Building System (NEBS) Compliant; Under evaluation for Common Criteria EAL4+
Chassis Regulatory Compliance
RoHS, UL 60950, IEC 950, FCC 47 CFR Part 15 Class A, EN 55022: EN 55024, VCCI V-3: AS/NZS 3548: 1995 : CNS 13438 Class A
Green IT Compliancy
High-efficiency power system up to 91 percent, WEEE Directive, ISO 14001, RoHS compliant
Power
Power Specifications
100-240 VAC 2,700W Rated Maximum
Hot-Swappable PSUs (per system)
Ships with 2 x 1,200W 120-240 VAC PSUs
Status Indicators
Power Supply and Module Active I Failed status LED, Port Link (NPM, CPM), Minor/Major/Critical Alarm LEDs