Checkpoint vSEC for VMware NSX

Security for east-west traffic between virtual machines with full automation and orchestration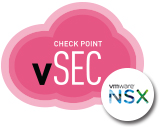 Sorry, this product is no longer available, Please, contact us for a replacement product!
Advanced Security protections seamlessly enforced inside the Software-Defined Data Center (SDDC)
Couple vSEC security with NSX micro-segmentation for advanced protection of east-west data center traffic
Multi-layered threat prevention with the highest catch-rates against malware, for advanced protection of traffic between virtual machines
Auto-detection, quarantine and remediation of infected virtual machines
Agile security provisioning for the SDDC
Fine-grained policies dynamically tied to VMware NSX Security Groups and vCenter VM objects aid fast and secure application delivery
Security policy easily segmented into sub-policies aligned to micro-segmented networks
Security services auto-provisioned in tandem with VMware ESX host deployments and virtual machine movement
Security capacity that elastically scales to adjust to dynamic network changes
Comprehensive threat visibility across the SDDC
Unified management with single policy for both virtual and physical gateways simplifies security enforcement
Centralized monitoring and logging ensures comprehensive threat visibility
Virtual network-specific reports provide insight into SDDC threat trends
Features
Feasible, scalable micro-segmentation
Inherent VMware NSX network isolation and segmentation makes data center micro-segmentation feasible without the need to configure vLANs, ACLs, firewall rules, physical firewalls and routers.  With Check Point vSEC, a layered approach to policy management allows administrators to segment a single policy into sub-policies for granular rule definitions and delegation of duties by network segment. This ensures that the right level of protection is applied across each network segment.
Ubiquitous security enforcement
The VMware NSX network hypervisor is optimally located between the application and the physical infrastructure, enabling distributed enforcement at every virtual interface. By integrating with VMware NSX, Check Point vSEC can dynamically insert advanced security protection. Check Point's Advanced Threat Prevention delivers multi-layered defenses, with the industry's best catch rates and comprehensive threat intelligence, to proactively stop botnets, targeted attacks, advanced persistent threats and zero-day attacks. VMware NSX makes it possible to chain Check Point's advanced security protections between different workloads and to control communications between applications.  This reduces network complexity and the need to use multiple VLANs inside the data center.
Comprehensive control and visibility
Security management is simplified with centralized configuration and monitoring of virtual security gateways. Virtual workload traffic is logged and can be easily viewed within the same dashboard as other gateway logs. Security reports specific to virtual workload traffic can be generated to track security compliance across the virtual network.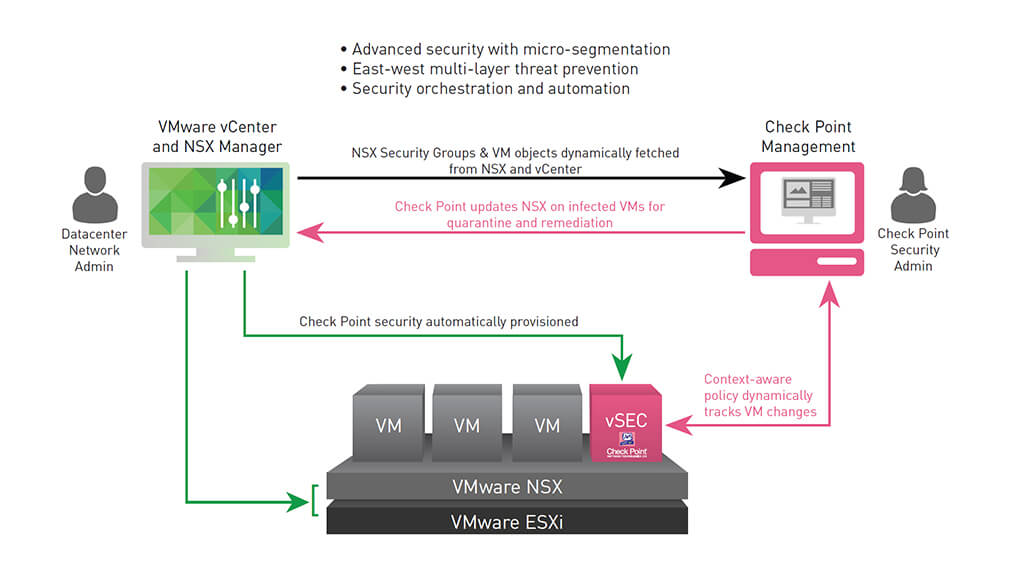 Context-aware security policy
VMware NSX standard tags enable full-context sharing between VMware NSX, VMware vCenter and the Check Point vSEC management platforms ensures that VMware Security Groups and VM identities are easily imported and reused within the Check Point security policy. This reduces security policy creation time from minutes to seconds.  Context-awareness is maintained so that any changes or new additions are automatically tracked. This makes it possible for security protections to be enforced on virtual applications regardless of where they are created or located.
In addition, predefined Check Point security templates automate the security of newly provisioned VMs.
Security automation and orchestration
Check Point vSEC leverages VMware NSX security automation for dynamic distribution and orchestration of vSEC for protecting East-West traffic. Check Point vSEC detects and tags malware-infected VMs, and automatically updates VMware NSX. Threats are quickly contained and the appropriate remediation service can be applied to the infected VM. In the data center environment, there is often a need to integrate different systems that manage the security workflow. Also, repetitive manual tasks must be automated to streamline security operations. Check Point's security management API allows for granular privilege controls, so that edit privileges can be scoped down to a specific rule or object within the policy, restricting what an automated task or integration can access and change. This ability to perform trusted connections provides security teams with the confidence to automate and streamline the entire security workflow.
Features
Details
Supported VMware Solutions
VMware vSphere 5.5.x
VMware vSphere 6
VMware vCenter Server 5.5 or later
VMware ESX 5.5 or later for each server
VMware NSX Manager 6.1.x
VMware NSX Manager 6.2.x
Supported Check Point Releases
R77.20VSEC
R77.30VSEC
Memory and System Requirements
2G RAM
5 virtual cores
80G HDD