Checkpoint vSEC for VMware vCloud Air

Delivers advanced threat prevention and secure connectivity to protect business assets in hybrid cloud networks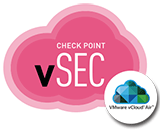 Sorry, this product is no longer available, Please, contact us for a replacement product!
Check Point vSEC for VMware vCloud® Air™ delivers advanced threat prevention and secure connectivity to protect business assets in hybrid cloud networks. Designed for the dynamic requirements of cloud environments, the vSEC for vCloud Air security solution also supports secure migration of VMs from data centers to the cloud with vSphere® VMotion®, making migration to vCloud Air painless.
Advanced threat prevention security for vCloud Air
Securely connect enterprise and mobile users to hybrid cloud services
Safeguard against data and infrastructure breaches
Award-winning sandbox technology defends against malware and zero-day attacks
Unified management of hybrid environments
Consistent policy management across both physical and virtual environments
Consolidated logging and reporting of all threats and security events across data center and hybrid cloud services
Easily extend security to hybrid environments
Available in VMware vCloud Air Marketplace
Flexible BYOL pricing model
Security follows VMs as they migrate across data center and hybrid cloud environments
Features
Comprehensive protections for hybrid cloud services
vSEC for vCloud Air security gives customers the full range of protections with the Check Point threat prevention architecture.
Firewall,IPS, Antivirus, and Anti-Bot protect services in the public cloud from unauthorized access and attacks.
IPsec VPN allows secure communication to cloud resources.
Mobile Access Softwareallows mobile users to connect to the cloud using an SSL encrypted connection with two-factor authentication and device pairing.
SandBlast Zero-Day Protection sandbox technology provides the most comprehensive protection against malware and zero-day attacks.
Securely migrate VMs from private clouds to public clouds
vSEC for vCloud Air dramatically simplifies security management and policy enforcement across private, public, and hybrid cloud networks. Working with VMware VMotion, vSEC for vCloud Air ensures advanced security protections move with VMs as they migrate from data centers to public clouds.
Unified logs and reporting for hybrid cloud environments
Get visibility and enforcement across your hybrid cloud and on-premise infrastructures using the Smart Event Software Blade. Simplify compliance and audits with unified logs and
Centralized Management for hybrid cloud and on-premise infrastructure
Manage vSEC for vCloud Air using your existing on-premise Check Point unified security management solutions. Enforce a consistent security policy for corporate assets in both vCloud Air and on-premise infrastructures from a single console.
Pricing Notes:
Pricing and product availability subject to change without notice.
vSEC VE Gateway is licensed by the number of virtual cores (vcores) assigned to the virtual machine running it
This license supports vSEC VE Gateways running on VMware´s ESX/ESXi/vCloud Air, Microsoft Azure/Hyper-V, Amazon´s AWS and KVM
Check Point vSEC VE Gateway license is pool based :

You can add additional licenses to the pool
The license pool is deployed on Check Point management server and will be automatically assigned to vSEC VE gateways

Renewal:

The license is composed of a perpetual software license and services renewal license
The renewal subscription license should match the number of cores in the perpetual license

Software Blades :

Regardless of the numbers of vcores allocated, every VE Gateway provides
– local management license for up to 2 gateways
– 5 mobile access users
– Customer can purchase addition software blades and deploy them on specific vSEC VE Gateways
For NGTX license: NGTX cloud inspection quota is 10k files/vcore/month